Illinois Congressional delegation: How they voted
Chronicle Media —

October 5, 2017
Report for week ending September 29 , 2017.
UNITED STATES HOUSE OF REPRESENTATIVES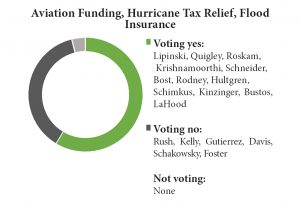 Aviation Funding, Hurricane Tax Relief, Flood Insurance: Voting 264 for and 155 against, the House on Sept. 28 passed a catchall bill (HR 3823) that would fund federal aviation programs through March 2018, make temporary changes in the tax code to benefit victims of recent hurricanes and extend several specialized medical programs. The bill also would expand the private sector's role in the taxpayer-subsidized National Flood Insurance Program, a residential market private firms historically have shunned as too risky.
The tax changes would enable storm victims to use retirement savings for home repairs without having to pay early-withdrawal penalties; provide employers with payroll tax credits to spur hiring in devastated areas; lift caps on charitable deductions to recovery organizations; increase deductions for property repairs and loosen the rules for child tax credits and the Earned Income Tax Credit for hurricane victims.
Jeb Hensarling, R-Texas, said: "In the small part of the national market where we have competition, particularly in Pennsylvania and in Florida, people are saving hundreds of dollars, if not thousands of dollars, in many cases on their flood-insurance premiums."
Garret Graves, R-La., said "once we authorize (private insurance companies) to step into these markets, they are going to be able to cherry-pick low- and moderate-risk policies, leaving the National Flood Insurance Program with only high-risk policies" and "the burden of a $24.6 billion debt."
A yes vote was to send the bill to the Senate.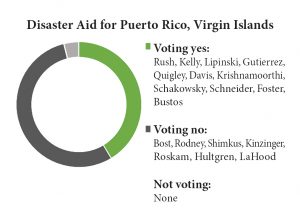 Disaster Aid for Puerto Rico, Virgin Islands: Voting 188 for and 227 against, the House on Sept. 28 defeated a motion by Democrats to add unspecified disaster aid for Puerto Rico and the U.S. Virgin Islands to HR 3823 (above). That would be in addition to the bill's temporary tax breaks to help those American territories recover from recent hurricanes. Although President Trump has not sent Congress a request for Hurricane Maria disaster aid, the Federal Emergency Management Agency says it is using funds already in the pipeline to help Puerto Rico recover from the Category 4 storm that devastated the island on Sept. 20.
Sponsor Jerrod Nadler, D-N.Y., said his measure "would do more for the people of Puerto Rico and the Virgin Islands" than the bill's hurricane-related tax breaks. "Unlike the underlying bill, this motion will give them funds to help them rebuild. The dollars are directed for rebuilding and other economic support."
Carlos Curbelo, R-Fla., called the underlying bill "an important first step that we have to take to help people in all of these jurisdictions, especially the people of Puerto Rico, because we know that the situation there is in no way comparable to anything that has happened on the mainland."
A yes vote was to expand the bill to include disaster aid for Puerto Rico and the U.S. Virgin Islands.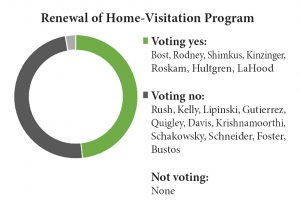 Renewal of Home-Visitation Program: Voting 214 for and 209 against, the House on Sept. 26 passed a GOP-written bill (HR 2824) that would extend the Maternal, Infant, and Early Childhood Home Visiting program through fiscal 2022 on a budget of $400 million per year. The bill drew criticism over a new requirement that jurisdictions including Indian tribes provide matching funds if they wish to participate. Under the program, social workers, nurses and educators regularly visit the households of young parents in at-risk communities, helping them to promote the healthy development of their children in a settled home environment, with an emphasis on laying the groundwork for success in school.
Adrian Smith, R-Neb., said the program "promotes school readiness of young children, increases economic self-sufficiency of families, improves prenatal health and birth outcomes and prevents childhood abuse and neglect."
Sander Levin, D-Mich., said the bill "would cut off funding to states and tribal organizations that are unable to match federal spending on home visiting," which "could cause states to scale back or even end their programs altogether."
A yes vote was to send the bill to the Senate.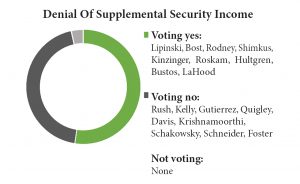 Denial Of Supplemental Security Income: Voting 244 for and 171 against, the House on Sept. 28 passed a bill (HR 2792) that would require the Social Security Administration to withhold Supplemental Security Income (SSI) payments from persons subject to an active arrest warrant for alleged felonies or parole or probation violations. That would go beyond an existing policy that withholds payments to SSI recipients who are actively fleeing law enforcement. Savings resulting from the change would be used to offset some of the cost of the Maternal, Infant, and Early Childhood Home Visiting program (HR 2824, above). SSI provides income support to tens of millions of impoverished Americans who are blind or severely disabled or at least 65 years of age with total assets other than homes of less than $2,000.
Kristi Noem, R-S.D., said: "Individuals who evade justice violate the social contract that grants them this safety net….The decision to grant a warrant is made by a judge in a court of law, not by the Social Security Administration. It should not be the duty of the American taxpayer to subsidize individuals who are wanted by the police."
Danny Davis, D-Ill., said "this a harsh, unfair bill. It would undermine the foundation of American justice, innocent until proven guilty, and it would do so for Americans who are impoverished and already at a severe disadvantage because of age, disability, education, race and ethnicity. It would strip people of basic income, in many cases all they have to live on, based on a mere accusation."
A yes vote was to pass the bill.
UNITED STATES SENATE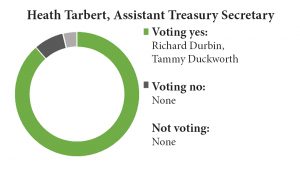 Heath Tarbert, Assistant Treasury Secretary: Voting 87 for and eight against, the Senate on Sept. 27 confirmed Heath Tarbert, 41, as assistant secretary of the Treasury for international markets. He will head the Committee on Foreign Investment in the United States, which monitors foreign transactions with U.S. companies to determine their impact on U.S. national security. A former law clerk for Supreme Court Associate Justice Clarence Thomas and Department of Justice attorney under President George W. Bush, Tarbert leaves a Washington law firm to join the administration.
Michael Crapo, R-Idaho, said Tarbert "has served in senior roles in all three branches of government and is an experienced lawyer and a recognized financial expert" who would ably fill this "critical national security and international economic policy job."
Elizabeth Warren, D-Mass., questioned whether Tarbert's vigilance over transactions that foreign governments use to acquire American technology. "We don't want to wake up one day and discover that our adversaries have access to key components of our national security technology because Congress and the White House were asleep at the wheel," she said.
A yes vote was to confirm Tarbert.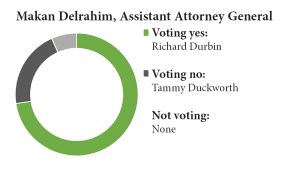 Makan Delrahim, Assistant Attorney General: Voting 73 for and 21 against, the Senate on Sept. 27 confirmed Makan Delrahim, 47, as assistant attorney general for antitrust enforcement. He served in the Justice Department's antitrust division under President George W. Bush and also worked as a congressional aide and Washington-based attorney and lobbyist.
Orrin Hatch, R-Utah, praised the nominee as "a high-quality lawyer" and said "all of us, Democrats and Republicans, liberals and conservatives, are going to make sure that our markets remain free and competitive. Cheap talking points are not going to cut it; only serious debate will."
Elizabeth Warren, D-Mass., said Delrahim's "approach to antitrust enforcement is based on a hands-off economic theory that just leaves big corporations to do pretty much whatever they want to do. Case in point, just last year, when asked (about) the proposed merger of AT&T and Time Warner…(he) said he didn't think it was a `major antitrust problem.'"
A yes vote was to confirm Delrahim.