How They Voted. Illinois Representatives' Votes in Congress
Chronicle Media —

March 13, 2017
Report for week ending March 10, 2017.
UNITED STATES HOUSE OF REPRESENTATIVES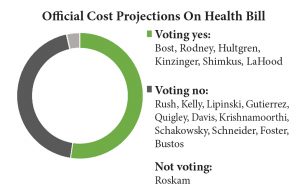 Official Cost Projections on Health Bill: The House on March 8 blocked, 232 for and 189 against, a bid by Democrats to delay committee and floor votes on the Republicans' new healthcare bill until after the Congressional Budget Office releases its official, non-partisan cost projections. This vote (H Res 174) was in response to the GOP leadership's allowing committees to approve the bill without waiting several days for the CBO to complete its work. The American Health Care Act was introduced March 6 and the Ways and Means and Energy and Commerce committees voted three days later to approve it.
Liz Cheney, R-Wyo., said it was wrong to focus on the health bill during discussion of the 2017 military budget (above) because "if we…fail to provide the resources our military needs, nothing else we do in this body matters."
Ro Khanna, D-Calif., asked: "How much is the repeal legislation going to add to our deficit? How much is it going to finance tax cuts for the wealthy? How many people will it leave out of insurance or how many people would it add to insurance?"
A yes vote was to quash a Democratic bid to delay committee votes on the bill until after the CBO issues cost projections.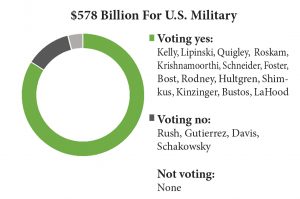 $578 Billion for U.S. Military: Voting 371 for and 48 against, the House on March 8 passed a $577.9 billion military appropriations bill for fiscal 2017 that includes $61.8 billion in emergency funding for war fighting in Afghanistan, Iraq, Syria, Yemen and other combat zones. The bill (HR 1301) would fund a 2.1 percent military pay raise; fund weapons systems for the four branches; set troop strengths of 1.3 million active-duty and 826,000 Guard and reserve personnel; fund programs for military victims of sexual assault and provide $50 billion-plus for active-duty, family and retiree health care.
Martha McSally, R-Ariz., said the bill appropriates "$6.8 billion for procurement of aircraft, ships and helicopters," boosts spending for electronic warfare and funds "important missile programs, from air-to-air missiles to missile defense."
Jim McGovern, D-Mass., said auditors cannot account for "billions and billions of dollars" in this budget, "yet the White House and the Congress can't wait to throw even more billions at the Pentagon, rather than demanding accountability and setting clear spending priorities."
A yes vote was to send the bill to the Senate.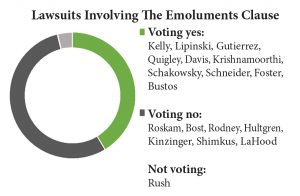 Lawsuits Involving the Emoluments Clause: Voting 186 for and 232 against, the House on March 10 defeated a Democratic motion that sought to exempt from HR 720 (below) any lawsuits alleging violations by President Trump of the Emoluments Clause of the Constitution, which prohibits presidents from accepting payments "of any kind whatever, from any King, Prince, or foreign State" without the consent of Congress. Although the president has removed himself from active management of the Trump Organization he retains his ownership.
Zoe Lofgren, D-Calif., said: "President Trump took the symbolic step of resigning from businesses but he still gets the income. Letting his family run the business does not solve the emoluments violation."
Bob Goodlatte, R-Va., the only opponent who spoke on the motion, did not comment on the emoluments issue but said: "Oppose this motion….Pass the base bill and let's show American where we stand on frivolous lawsuits…."
A yes vote was to adopt the Democratic motion.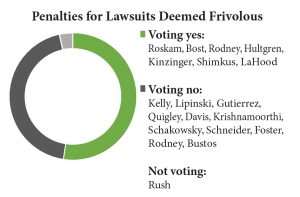 Penalties for Lawsuits Deemed Frivolous: Voting 230 for and 188 against, the House on March 10 passed a GOP-drafted bill (HR 720) requiring federal courts to impose financial penalties on plaintiffs who file lawsuits deemed frivolous by the presiding judge. The bill would require offending parties to pay compensation such as attorneys' fees to those on the receiving end of frivolous suits. At present, judges can levy such penalties at their discretion.
Lamar Smith, R-Texas, said the bill "will serve as a disincentive to file junk lawsuits" and "encourage attorneys to think twice before making an innocent party's life miserable."
Darren Sota, D-Fla., said the bill would "stifle the legal community because lawyers will not be willing to take a case unless it is a guaranteed win."
A yes vote was to send the bill to the Senate.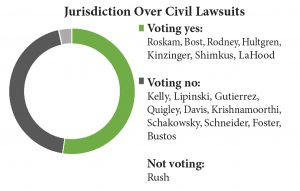 Jurisdiction Over Civil Lawsuits: Voting 224 for and 194 against, the House on March 9 passed a GOP-drafted bill (HR 725) aimed at shifting many civil lawsuits from state courts, where plaintiffs such as consumers are thought to fare better, to federal courts, which are seen as more friendly to defendants such as corporations. Backers said the bill would combat fraudulent forum-shopping by plaintiffs' lawyers, while opponents said it seeks to fix a problem that does not exist. The bill gives federal trial-level judges more tools for assigning cases to federal courts in "diversity of jurisdiction" proceedings.
Ken Buck, R-Colo., said the bill "defends our small-business men and women from bad faith lawsuits. It provides relief from trial lawyers who seek out friendly courts in order to pursue their cases."
Alcee Hastings, D-Fla., said: "In reality, all this bill will do is make it more difficult for regular folks across this country to bring lawsuits against massive corporations."
A yes vote was to send the bill to the Senate.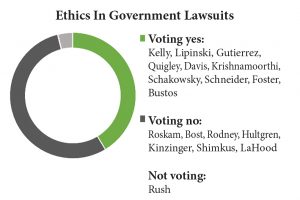 Ethics in Government Lawsuits: Voting 187 for and 233 against, the House on March 9 defeated a Democratic motion to exempt from HR 725 (above) any civil lawsuits concerning ethical conduct and standards in all levels of government.
Ann Kuster, D-N.H., said her constituents "are concerned about the president's reluctance to fully give up control of his businesses, his refusal to publicly disclose his tax returns and the connections between Russia and those in his campaign and the administration."
Blake Farenthold, R-Texas, said the underlying bill "has nothing to do with what the (motion) proposes. (The bill) is to protect innocent folks from being sucked into lawsuits by trial lawyers."
A yes vote was to adopt the Democratic motion.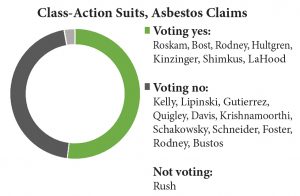 Class-Action Suits, Asbestos Claims: Voting 220 for and 201 against, the House on March 9 passed a GOP bill (HR 985) that would tighten rules for federal class-action suits in order to bar unqualified claimants from collecting payments. The bill would allow courts to certify only suits in which all members of the class are s hown to have suffered the same type and scope of injuries. The bill would delay compensation to some disease victims in suits based on workplace exposure to asbestos.
Doug Collins, R-Ga., said that while class-action lawsuits include many legitimate plaintiffs, "we also see countless others who have suffered no injury at all yet are vying for class-action spoils to which they have no right."
Louise Slaughter, D-N.Y., said "closing courthouse doors to ordinary people who are injured in the workplace and makes it harder for working people wronged by the rich and powerful to seek justice."
A yes vote was to send the bill to the Senate.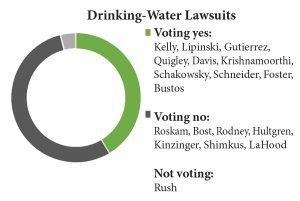 Drinking-Water Lawsuits: Voting 188 for and 234 against, the House on March 9 defeated a motion by Democrats that sought to exempt from HR 985 (above) any federal class-action lawsuits filed to protect public drinking-water supplies from contamination such as that which occurred in Flint, Mich.
Daniel Kildee, D-Mich., said: "Having safe drinking water is a human right, and the access to that and the access to justice related to that basic human right ought to be completely unfettered."
Bob Goodlatte, R-Va., asked: "Why would anyone want to single out safe drinking water victims for adverse treatment…?" He added that the bill is aimed at "hundreds and thousands of unmeritorious claims…."
A yes vote backed the drinking-water exemption.
UNITED STATES SENATE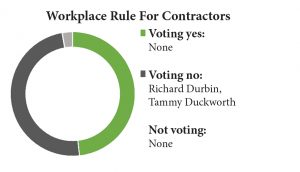 Workplace Rule for Contractors: The Senate on March 6 voted, 49 for and 48 against, to nullify a federal regulation aimed at keeping federal contractors in compliance with 14 major workplace laws, including the Fair Labor Standards Act, Americans With Disabilities Act, Civil Rights Act, Family and Medical Leave Act, Occupational Health and Safety Act and Age Discrimination in Employment Act. Under the rule, when companies bid for contracts worth at least $500,000, they must self-report any actual or alleged violations of those laws in the previous three years to government procurement officials, who would factor the information into decisions on whether to award contracts. A federal court ruling has temporarily kept the rule from taking effect.
Majority Leader Mitch McConnell, R-Ky., said: "Apparently, the last administration thought it would be a good idea to prevent American businesses from earning government contracts based on allegations, not facts."
Richard Blumenthal, D-Conn., said the rule is needed because "every year, tens of thousands of American workers are denied overtime wages, they are unlawfully victims of discrimination in hiring and pay, they have their health and safety put at risk by federal contractors…."
A yes vote was to send the nullification measure (HJ Res 37) to President Trump.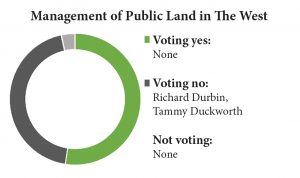 Management of Public Land in The West: Voting 51 for and 48 against, the Senate on March 7 nullified a regulation that would update Bureau of Land Management procedures for obtaining science-based information and public comments in its management of 245 million publicly owned acres in western states. The BLM said the "Planning 2.0" rule would help it balance competing uses such as ranching, recreation, conservation, drilling, mining, military activity and economic development. But critics called it a "land grab" that would harm local economies, crimp private property rights and restrict grazing, logging and drilling access. Two years in the making and the subject of more than 3,000 public comments, the rule would update procedures in place since the 1980s.
A yes vote was to send the nullification measure (HJ Res 44) to President Trump.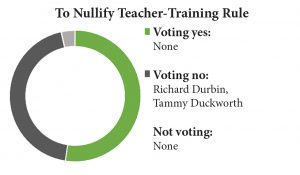 To Nullify Teacher-Training Rule: Voting 59 for and 40 against, the Senate on March 8 nullified a rule that would upgrade federally set standards for the collegiate training of future teachers in K-12 classrooms. Critics said the rule would infringe on state and local education prerogatives.
Ben Sasse, R-Neb., said: "This teacher-preparation mandate actually assumes that Washington bureaucrats are competent to micromanage teacher training programs across America."
Chris Van Hollen, D-Md., said the measure "prevents the (Department of Education) from carrying out its responsibility to ensure high-quality teacher- preparation programs."
A yes vote was send the nullification measure (HJ Res 58) to President Trump.