PRIME TIME WITH KIDS: Celebrate Cinco de Mayo with a papier-mache sunburst piñata
By Donna Erickson —

April 26, 2018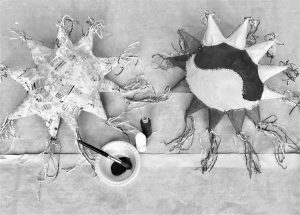 What a celebration! The Habitat for Humanity volunteer build team from Minnesota, including my husband and son, had just finished pouring the cement floor and raising the walls of a new home in Costa Rica. The partnering Costa Rican family, their relatives and neighbors were onsite for a lively "completion party," with the breaking of a piñata as the center of the happy home dedication festivities.
With the colorful piñata attached to a pulley system from a tree branch, one of the Costa Rican Habitat builders moved it up and down according to the height of the participant to make the game extra challenging. Finally, after many whacks with a stick and with cheers from the crowd, candy spilled on the ground as children scrambled to collect the goodies.
You can enjoy the fun and challenge of breaking open a piñata at your next family milestone, birthday party or holiday celebration, like Cinco de Mayo coming up on May 5.
Make a papier-mache piñata ahead of time with your own design, or get started with this sunburst piñata that uses simple everyday items. It has all the basics for family fun: tradition, creativity and a gooey mess!
Here's the stuff you need:
2 cups all-purpose flour

2 cups water

5-inch long, thin, colorful paper streamers

tape

7-11 4-inch cone-shaped paper cups

one inflated large round balloon

newspaper

acrylic or poster paints

small hook

wrapped candy and nonbreakable trinkets

sturdy string
Here's the fun:
For the papier-mache goop, stir flour and water together in a large bowl.
Clip off the very end tips of the points of the cups and insert little bunches of streamers. Tape in place. Then tape the cups in a circle around the circumference of the balloon to represent rays of the sun.
Tear or cut newspaper into 1-inch-by-7-inch strips. Dip strips one at a time into the goop, remove excess with your fingers, then drape over the form any which way, covering the surface and the cups. Smooth out any wrinkles as you go. Let dry. Repeat with a second layer of paper strips. Let dry.
Cut a small opening in the back of the sunburst. Attach a hook and fill the piñata with treats and trinkets. Cover the opening with newspaper and tape closed, then paint the piñata. Tie string to hook and hang.
Resources: To learn more about volunteering on a Habitat Global Village trip, visit www.habitat.org/volunteer/travel-and-build/global-village.
***
Donna Erickson's award-winning series "Donna's Day" is airing on public television nationwide. To find more of her creative family recipes and activities, visit www.donnasday.com and link to the NEW Donna's Day Facebook fan page. Her latest book is "Donna Erickson's Fabulous Funstuff for Families."
© 2018 Donna Erickson; Distributed by King Features Syndicate
—PRIME TIME WITH KIDS: Celebrate Cinco de Mayo with a papier-mache sunburst piñata–