Community calendar
Chronicle Media Staff —

February 21, 2017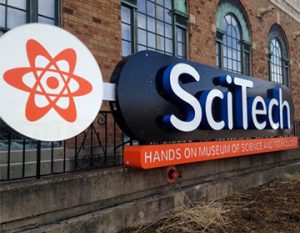 THROUGH FEB 26 
On Golden Pond
Elgin Art Showcast
164 Division St., 8th Floor, Elgin
The 1979 play by Ernest Thompson is the love story of Ethel and Norman Thayer, who are returning to their summer home on Golden Pond for the 48th year. He is a retired professor, nearing 80, with heart palpitations and a failing memory—but still as tart-tongued, observant and eager for life as ever. Ethel, 10 years younger, and the perfect foil for Norman, delights in all the small things that have enriched and continue to enrich their long life together.
Performances on February 17, 18, 19, 24, 25, and 26.
Curtain Times: Fridays and Saturdays at 8:00 PM, Sundays at 2:00 PM. 
FEB. 22 
Party On! Wayne's World @ the Roundhouse
Two Brothers Roundhouse, 205 N. Broadway, Aurora
7:30 p.m.
no cover
The film — partly set in Aurora — follows the story of heavy metal fanatics Wayne Campbell and Garth Algar and their public access show. The legendary comedy is  now being celebrated on the occasion of the 25th anniversary of its release. Information: (630)  264-2739 or email
info@twobrothersbrewing.com.
James Kao: Artist Talk
Aurora University's Perry Theatre
349 S. Gladstone Ave. Aurora
7 p.m.
free
The artist makes paintings and drawings that present the child-like, animal-like and angelic sensibilities that underlie our world. Kao shares documentation of his artistic production and comments on his evolving practice. Registration required. Information: (630) 844-4924 or email. artsandideas@aurora.edu.
FEB. 24-26 
Don't Drink the Water
Steel Beam Theatre
111 W. Main St. St. Charles
8 p.m. Friday-Saturday, 3 p.m.
Watch what happens when the 1960's and old style Communism collide somewhere across the border. This zinger-filled farce follows a nice American family, accused of spying, and trapped in a run-down U.S. Embassy in a country off the tourist map. Information: (630) 587-8521 or visit www.steelbeamtheatre.com
FEB. 25 
Super SciTech Saturday – ART-chitecture
SciTech Hands On Museum
18 W. Benton St., Aurora
10 a.m.-4 p.m.
Free children's admission with paying adult
Creation Stations open for everyone to learn how Art and Science belong together. Information: (630) 859-3434.
Agatha Christie's "Murder on the Nile"
Fermilab's Ramsey Auditorium
Kirk Rd. & Pine St., Batavia
Staged by the Aquila Theatre company, this new production features a masterful whodunit and Aquila's clever signature style. Information: (630) 840-2787.
Speaker Series: Eastland Disaster
St. Charles History Museum
215 East Main St., St. Charles
1 p.m.
This ship sank before it even left the Chicago River on July 24, 1915 and killed 844 people. It has been called "America's Forgotten Tragedy" and "Legacy of Titanic". John Boda has researched this event in great detail with many interesting facts, stories and pictures. He also has a very personal connection: Boda's grandmother and two great aunts were all on board but managed to escape and live long lives.
Information: (630) 584-6967 or visit www.stcmuseum.org
FEB. 25-26 
Championship and Household Pet Cat show
Kane County Fairgrounds
525 S. Randall Rd. St. Charles
Show features 225 cats competing for "Best in Show". An Education Ring presents speakers on topics of feline health. There will be numerous vendors and shelters with cats available for adoption. Information and $1 off coupon on website www.lscats.org. LSCC is a non-profit organization. Information: (773) 528-8897.
FEB. 26 
Animal Encounters: Coyote
Red Oak Nature Center
2343 N. River Rd., North Aurora
1-2 p.m.
Learn more about the animals that live at Red Oak Nature Center, especially the coyote!. Program fee goes to help care for the animals. Children must be accompanied by a parent. Ages 5 and up. Information: (630) 897-1808 or email fvpd@fvpd.net.
ESO Family Concert: Fused Art
Gail Borden Public Library
270 N Grove Ave, Elgin
2 p.m.
Join ESO cellist, composer, and fused glass artist Elizabeth "Betsy" Start and her ESO friends as they show you how poetry can spark the imagination to create music and visual art. Hear how the poetic imagery takes form in musical notes and phrases, and see the fused glass artworks it inspired.
FEB. 27 
Classic Movie Monday: Scarface
Paramount Theatre
23 E. Galena Blvd., Aurora
doors open 6:15 p.m., movie starts at 7 p.m.
After assassinating a Cuban government official, Tony Montana makes his way to Miami to carve his name on the American drug trade. Savagely killing anyone who gets in his way, Tony soon becomes the biggest drug lord in all of Miami. As the saying goes, Rome must fall and Tony finds himself unable to keep up with police pressures, warring Colombian cartels and his own drug paranoia. Buy tickets at the door. Cash only.
MARCH 3 
Artist reception
Paramount Theatre Grand Gallery
23 E. Galena Blvd., Floor 2, Aurora
Support the Arts, meet the artists, exchange ideas, enjoy complimentary appetizers. Cash bar. The 2016-17 Paramount House Artists include Randy Benzie, George Bruce, Dan Capo, Nick Freeman, Maureen Gasek, David Hettinger, Ariel Hodge and Cheryl Holz. Information: (630 408-9925 or email melmeisch@comcast.net
First Fridays Aurora
downtown, various venues
5 p.m.
Enjoy a night of art, fun, music, dance, and community at local businesses and venues in downtown Aurora on the first Friday evening of the month. Multiple venues in downtown Aurora open with art, music, and more. Free entrance, free art viewing, free trolley rides, free fun.
MARCH 4-5 
Kane County Flea Market
Kane County Fairgrounds
525 S. Randall Road, St. Charles
$5 and under age 12 free
Up to 1,000 dealers display and sell antiques, collectibles, & Fancy Junque. A country breakfast is served on Sundays. Information: visit  www.kanecountyfleamarket.com
MARCH 5 
Mardi Gras at SciTech
SciTech Hands On Museum
18 W. Benton St., Aurora
2-6 p.m.
$25 general admission, $15 members
Featuring World Famous Bubba The Alligator and Jim Nesci's Cold Blooded Creatures. Information: 630) 859-3434.
Picosa Ensemble
Fermilab's Art Gallery
Kirk Rd. & Pine St., Wilson Hall, Floor 2, Batavia
2:30 p.m.
Picosa is a new Chicago-based mixed chamber ensemble (flute, clarinet, violin, cello, and piano). Noted for its signature symphonic sound and virtuosity, Picosa presents an eclectic variety of works from baroque to contemporary, and soloist to full chamber ensemble. Information: (630) 840-2787 or email fermilab@fnal.gov
MARCH 6 
Classic Movie Monday: Titanic
Paramount Theatre
23 E. Galena Blvd., Aurora
7 p.m.
The RMS Titanic is "The Ship of Dreams" -luxurious, extravagant, unsinkable. From opposite worlds, two unsuspecting strangers meet on this ill-fated maiden journey only to fall for one another and tragically be forced to test the power of love just days later. Tickets available at the door, cash only.
MARCH 10 
Artrageous
Fine Arts Centre
1201 Main St.,Batavia
7:30 p.m.
Giant artworks jump to life with amazing speed unveiling larger than life icons and masterpieces in just moments, all the while there is constant activity on stage, attracting attention and delighting senses with energy, spirit and action. Information: (630) 937-8930.