Chicago area students ready to march for gun reform
By Emily Arias for Chronicle Media —

March 13, 2018
Chicago students are using their voices to promote change in the wake of tragedy by organizing March for our Lives Chicago in response to the Valentine's Day shooting at Stonewall Douglas High School.
The event, one of many "sister marches" throughout the United States on March 24, will start at 11 a.m. in Grant Park. The Facebook event page states  "the lack of gun reform has left too many of our classmates dead. It's time for change. March with us."
March for our Lives Chicago already has over 8,200 people marked as "going" on Facebook, and with over 26,000 marked as "interested", this march.
Sydney Jackson, a student at the University of Chicago, is one of the group's organizers and also the founder of the non-profit Roses 4 Austin. She grew up in Oak Park and attended Oak Park and River Forest High School.
OPRF was just one of many high schools taking part in a walkout over the last few weeks, one of the ways that March for our Lives has initiated activism before the big event.
Some schools were threatening detentions for those who participated in the walkout, but MFOL was quick to respond to these issues and try to gain support from the administration.
"It was to say "as students, we have a right to be actually doing something about gun reform," said Jackson.
For these students, who were all brought together by OPRF teacher Anthony Clark, the issue of gun reform hits close to home and is a cause that some local groups have been fighting for years.
Lauren Flowers and Sabrina Bitre currently attend Oak Park-River Forest and both are members of the Press Committee and Core Speakers Committee for MFOL Chicago.
During the walkout on Feb. 21, Bitre and Flowers noticed that the majority of students who participated were white, a trend that they are noticing throughout the nation in response to mass shootings. They said they that people of color are frustrated after years of fighting for gun control and not being heard.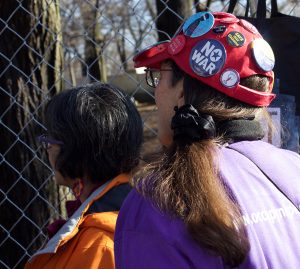 "I have a friend affected by gun violence who was shot when he was 12 years old," Bitre said. "He told me that what we're doing is amazing because he lived on the south side of Chicago for half of his life and kids there have been fighting for such a long time, but you would never know because the media doesn't care since they're poor, black kids," said Bitre.
In Chicago this year, 370 people have been shot, the youngest victims were just 13-years-old, according to data collected by the Chicago Tribune. While that number is lower than last year, it's no secret that gun violence is a major problem in the city.
"They've been screaming for so long. They go into the streets and scream "black lives matter, black lives matter", then they get hit with "all lives matter, all lives matter," said Bitre, "They have brothers and sisters dying on the streets, but when something happens in this predominately white school and these white kids stand up everybody's giving them eyes."
While bills have been introduced to ban  bump stocks and the raise of the gun purchasing age to 21, these students want more done within their community and surrounding communities of Chicago.
"March for our Lives Chicago has brought together a lot of like-minded people, like Black Lives Matter Chi Youth, they've been doing this work for years, always advocating for our same exact message," said Jackson.
This march is powered by young people, some of whom can't even vote yet. The organizers all believe that this youth is just what a march like this needs, without any ulterior motives, simply driven by passion and frustration.
"Listen to these kids, support them," Flowers said. "Because of what happened, they have a platform, they're using it great, they know what they're saying… support them. Companies are seeing that people like Emma Gonzalez hit 1.1 million followers in just a matter of days… they're saying "people are listening to this kid".
The organizers all hope that this march can bring different subgroups together to march in unity for stricter gun control in the city of Chicago and throughout the United States. Flowers hopes that this will "open people's eyes" and start to have those affected by gun violence in the city "treated as people and not just a statistic".
Jackson hopes that this march will be more than people just showing up, taking pictures and posting them online to show how "woke" or involved they are.
"Really this march is just a mobilization of all the people and then from there we want to continue that into conversations about change within the communities," said Jackson.
There are a few more walkouts scheduled for March 14 at Chicago high schools like Jones College Prep, Walter Payton College Prep and Lane Tech.
"I hope that, not just the march in Chicago, but all the sister marches, the march on Washington, scares politicians," Bitre said. "I hope it tells them, we are done with your politics, we are done with money mattering more than our lives. We're done. We want to see action. We're sick of, as the Parkland students said, "thoughts and prayers." To those politicians, I say turn on your TV on March 24th and soak it in… soak it in."
For more information or to get involved, visit Facebook.com/Marchfolchicago.
Suburban students join in nationwide walkouts over gun violence
Get your free subscription of the Cook County digital edition
—  Chicago area students march for gun reform —-