CTA urged to raise fares
By Kevin Beese Staff reporter —

November 20, 2017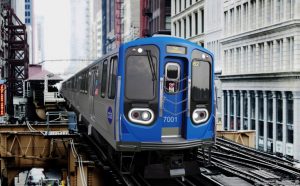 The Chicago Transit Authority is looking at a fare hike as one of the potential remedies to a cut in state funding. 
CTA leaders said a hike in fares would be a last resort. However, the Regional Transit Authority, the governing body over public transportation entities in the Chicago area, says without a fare hike the CTA doesn't have a guaranteed revenue stream for needed additional money and likely wouldn't get RTA approval for its budget.
"We recognize and commend CTA's extensive and successful efforts to contain operating expenses in recent years," RTA Executive Director Leanne Redden wrote in a recent letter to CTA President Dorval Carter. "However, if CTA service levels are to be preserved the time has come for stronger system-generated revenue." 
Redden noted that both Metra and Pace submitted 2018 budgets to the RTA that included fare increases to offset funding reductions and pointed to the CTA needing to follow suit. 
"Over the last few budget cycles the RTA Board has expressed concerns that, unlike other major urban transit agencies, CTA has not raised its base fare since 2009," Redden said. "Fare increases, while onerous, are the most reliable way to generate revenue and achieve the CTA and regional recovery ratios. As such, the RTA strongly encourages CTA to implement a fare increase for 2018 sufficient to bring the preliminary operating budget into balance." 
The RTA Act requires transportation agencies under the Regional Transit Authority umbrella to present balanced budgets and that the RTA, overall, recovers 50 percent of its funding. 
Redden said failure to meet the required recovery rate and the RTA not passing a budget by Feb. 1 would trigger a 25 percent withholding of CTA funding, equating to $360 million. Service disruptions would definitely occur, should that withholding happen, Redden pointed out. 
"None of us want to go down that path," Redden said. 
CTA representatives said in a statement that the agency is still finalizing its budget and hopes to make an announcement about it this week. They said the state's reduction of $33 million for CTA operations "presents an unprecedented challenge we're looking to address." 
"CTA is looking at any potential way to find cost savings and efficiencies for 2018, but service cuts are not being considered," the CTA said in its statement. "Fare increases are always an option of last resort. 
"CTA hasn't raised its base fare since 2009. We have maintained our base fare longer than any other major U.S. transit agency." 
— CTA urged to raise fares —