IG report: South Stickney Sanitary District filled with nepotism, politics, theft
By Jean Lotus Staff reporter —

July 25, 2017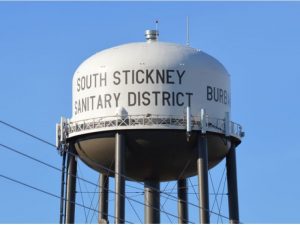 An unnamed South Stickney Sanitary District official racked up unauthorized credit card charges at a steamy couples hotel in Frankfort, as well as bills for other hotels and resorts, pet food, cable TV, haircuts and groceries between 2013 and 2016, according to a report by the Cook County Office of the Independent Inspector General.
The inspector's report also found trustees awarded themselves a $400 per month mileage allowance; a district official sold scrap metal and pocketed the cash; an attorney and his wife were included in the district health insurance and employees received improper vacation pay.
They also noted "pay to play" connections between district vendors and campaign contributors to local politicians.
The county agreed with the IG's recommendation to oust the district's superintendent and office manager, who were not named in the report. The district's website identifies Jason Gustafson, son of former trustee George Gustafson, as superintendent. Linda Hoffenkamp was identified as the office manager on the district website.
But Cook County Spokesman Frank Shuftan said the administrators were not county employees and cannot be hired or fired by the county.
"[Cook County Board President Toni Preckwinkle] supports the recommendation of the OIIG based upon the findings but recommended that the Trustees consider those findings and undertake their own due diligence to determine appropriate steps," Shuftan said in an email.
Trustees are appointed by the Cook County Board. The county did not follow the inspector's recommendation to replace all district trustees, because two of the trustees were new.
The report found "inefficient and wasteful management of the District's resources" by managerial staff and trustees, and a culture of "nepotism and political influence in district affairs," linked to persons affiliated with the Stickney Township Regular Democratic Organization, located in Burbank.
The South Stickney Sanitary district in the 7800 block of Lavergne Avenue in Burbank, is an independent water agency delivering water and sewer services to about 9,300 residential and commercial accounts in the City of Burbank and parts of unincorporated Stickney Township. The district has a yearly operating budget of $7.5 million and 23 full-time employees, according to its annual report.
Inspectors found the unnamed official used the district credit card to charge visits to Sybaris Clubs of Frankfort, Mt. Olympus Resorts in Wisconsin Dells, Grizzly Jacks Grand Bear Resort in Utica as well as two hotels in Las Vegas. Mundane charges at merchants such as Toys R Us, GameStop in Oak Lawn, Pet Supplies Plus, Supercuts and Best Buy also showed up on credit card statements, as well as drug stores, grocers and restaurants, including Chuck's Southern Comforts Café.
The official allegedly broke a district rule that credit card charges, even if paid back, are not permitted for personal, family or household purposes.
The report also said an unnamed official of the district was recorded at least 12 times on video, using a district truck and selling old water meters to a scrap metal recycler. One load of meters, which contain valuable copper wiring and tubing, was sold for $1,522 in cash, the report said. Inspectors estimated $21,000 in cash was acquired by selling meters for scrap metal, but found there was no evidence the money was ever paid back.
Even though the district's trustees' salaries were capped by statute at $6,000 per year, trustees were found to have voted themselves a $400 monthly travel allowance totaling $4,800 per year. Trustees were not required to submit proof of mileage, the report said.
During the period of the OIIG's investigation Joseph Ford served as district president. Stickney Township Assessor Jay Grider served as clerk and Raul Agguire served as trustee. Agguire was replaced by Fred Moody, the brother of 6th Dist. Cook County Commissioner Ed Moody.
The district improperly paid for Blue Cross Blue Shield of Illinois health insurance for an independent attorney and his wife, and awarded improper benefits to employees, the report said. The report recommended firing the attorney.
The report noted close political ties between the district trustees, superintendent and local politicians in the Stickney Township Regular Democratic Organization, chaired by municipal attorney Vincent Cainkar, and Stickney Township.
The report noted that key vendors were also contributors to the Stickney Regular Democrats, including Willowbrook-based Novotny Engineering, run by Vince Cainkar's brother, James Cainkar. Novotny was paid $15,817 by the district and donated $11,335 to the Stickney Township Democrats.
Other vendors who were also political donors, each giving around $3,000, were Avalon Patroleum of Tinley Park; R. Difoggio & Sam Plumbing & Sewer of Chicago Ridge; Harrington Site Services, Co. of Alsip; McLaughlin Concrete of Oak Lawn; Sid Camp stone supplier, of Mokena and Plotke Asphalt Co. of Rockdale.
The reports said trustees were uncooperative with investigators and that the superintendent told investigators they had no jurisdiction over the sanitary district.
The report recommended eliminating the mileage allowance for trustees and making sure they took training in Open Meetings Act law and the county's ethics ordinance. The county agreed, to the extent that they can influence the sanitary district trustees the report said.
Free subscription to the digital edition of the Cook County Chronicle
Read the current issue of the Cook County Chronicle
—  IG report: South Stickney Sanitary District filled with nepotism, politics, theft —