A Very Good Year
January 16, 2013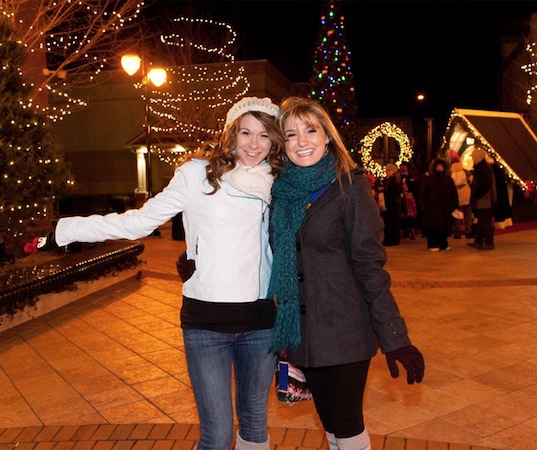 Two visitors enjoy the First St. Plaza in downtown St. Charles during the holidays (Alex Claney Photography)
17 businesses open, others enhance St. Charles operations
Over 17 new businesses opened their doors in downtown St. Charles in 2012, several others made significant exterior and interior improvements and others recognized for excellence. 
It's part of continuing efforts to bring people downtown more frequently to experience the offerings of dining, shopping, recreation, and entertainment. Below are some highlights to as surveyed by the Downtown St. Charles Partnership (downtownst.charles.org):
Openings—Several new businesses opened their doors in 2012 across Downtown St. Charles which specialize in vintage, home décor, and furniture. La Vie Encore opened on Third Street and Treasure Broker LLC opened on State Street across from the Breadsmith. A new retail popcorn and candy store, Chicago Turtle Factory, opened on Riverside next to the Arcada Theatre and Starbucks. Two new restaurants opened as well with Wild Monk filling the old Prasino on First Street and the Alibi Bar and Grill opening on 3rd Street and Cedar. 
In addition to retail and restaurants, Downtown St. Charles has also welcomed two new salons, David Charles Salon and Spring Salon & Spa. Other new businesses include: Integrated Medical Options, Chicago Body & Chrome, Circa Vintage Gallery, Kryias Art Studio & Classical Atelier, Lighthouse Behavioral Health, Riverside Insurance Associates, InNetwork, Law Offices of Jotham S. Stein, PC, and NOVO: Renewing Joy in Life.
Business Improvements—The Blue Goose Market named a new President in Paul Lencioni, the son of longtime President and Owner Dave Lencioni, and continued its legacy of great food at a good value. It also recently completed some minor remodeling near the front of the store, shifted and rotated produce, and added a greater selection of cold beer and spirits; the new selection of cold beer is now where the ice cream was once located. 
Kimmer's Ice Cream added a new ice cream making machine earlier this year that dramatically improved efficiencies and provided the opportunity to make and sell more ice cream to local supermarkets such as the Blue Goose. Kimmer's has also been able to expand its shipping of ice cream, and plans to add e-commerce to their website in February. 
Other businesses making improvements include three which were awarded Façade grants from the City of St. Charles. The dollar amounts and businesses include $5,950  to Bill Grossklag, owner of 201-203 W. Main St, to repair the metal cornice on the building; $11,400  to Doc Morgan of 108 S. 2nd St., for improvements to the entrance stairs; and $18,650 to Dave Gary, owner of 117 W Main St, for storefront facade improvements. Dave Gary's building at the intersection of Route 31 (2nd St) and Route 64 (Main St) will soon house two new retail stores in both Biggby Coffee, a fast-growing coffeehouse franchise, and Forever Yogurt, a self-serve frozen yogurt franchise. 
Entertainment—The Arcada Theatre brought top acts to the St. Charles landmark. In 2012, the theater hosted acts and Hollywood stars such as Kevin Costner & Modern West, Joan Rivers, Kansas, Eddie Money, Frankie Avalon, and Clay Aiken. According to the website www.oshows.com, upcoming acts include: Pat Benatar & Neil Giraldo, The Guess Who, Shirley MacLaine, David Sedaris, and Rick Springfield. 
The intimate Steel Beam Theatre continues to entertain subscribers, groups, and single ticket patrons with shows from top notch comedic geniuses such as Neil Simon and The Sunshine Boys (Fall 2012) and musical favorites such as Scrooge the Musical which played through the holidays. As a sneak peak to 2013, Steel Beam Theatre will dramatize the murder mystery DeathTrap (February 2013) and the daring portrayal of Irish Playwright Conor McPherson's The Seafarer (April 2013) which was raved by critics when it played at Steppenwolf Theatre in 2009. 
Events—September saw the first St. Charles Jazz Weekend which featured several different jazz performers among four downtown establishments. The Jazz Weekend  was successful in fulfilling its goal to increase sales and draw new customers for each participating venue. 
During the holiday season, the shopping and dining in Downtown St. Charles was strengthened by an early Thanksgiving and the Holiday Homecoming festivities that followed. The Electric Christmas Parade featured Jack Wagner, Sharon Oie, Dave Lencioni, and Alderman Jim Martin as Grand Marshals who were the four founders of the Downtown St. Charles Partnership, which celebrated its 20th Anniversary in 2012. The parade drew a record 13,000 parade spectators, and people continued to frequent downtown through the holidays to experience "Visits with Santa" in the First Street Plaza and shop for Christmas Trees in the First Street Christmas Tree Lot across from the Plaza. 
Perhaps the quote of the year came from Susan Escamilla who watched the parade for the first time with her children and father, "Oh my gosh, it was so good. We just moved here. This is a small town – it's clean, it's safe and it's just a dream come true," she told a local newspaper.
Recognition and Awards—Preceding the annual St. Charles Scarecrow Fest 2012, Greater St. Charles was featured on national television during a segment on The Today Show as one of the Top Autumn Festivals. 
The recognition was on the heels of the 2011 Award adorned to the City of St. Charles and The Greater St. Charles Convention and Visitors Bureau as the Number 1 City for Families in America as named by Family Circle Magazine. 
Za Za's Trattoria was the recipient of the Kane County Chronicle Reader's Choice Award for Best Italian Food in 2012 and Bull and Bear Tobacco Shop was also a recipient of the same award for "The Best Cigar Shop." Claudia's Closet was recently featured as the designer/clothing provider for a photo published in Italian Vogue, with Claudia, daughter of Claudia's Closet owner Karla Sitko and the store's namesake, featured in the photo. 
The Warehouse Antiques and Confectionary celebrated its 40th anniversary in St. Charles and was honored by the City of St. Charles with a proclamation naming a day in the business's honor. Dick Pond Athletics in St. Charles also received a similar proclamation from the City of St. Charles as it celebrated its 44th year. Dick Pond Athletics also recevied an award from American Express OPEN and Facebook, receiving $25,000 to launch strategic actions aimed at building and marketing the company's brand. For those with a budding interest in running, Dick Pond has several running classes for beginners and a new class in 2013 "Can I Run a Marathon?", which will focus on the training regiment, financial, and time commitment.   
About the Downtown St. Charles Partnership—The mission of the Downtown St. Charles Partnership (DSCP) is to enhance the economic viability and to preserve the character and beauty of Downtown St. Charles.The Partnership produces the St. Charles Fine Art Show and Holiday Homecoming. For more information about the DSCP, including membership, volunteer opportunities, and events visit www.downtownstcharles.org