Area towns ask residents to help keep hydrants clear
February 12, 2014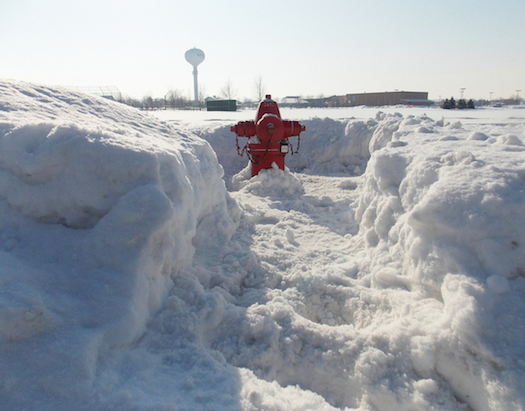 With piles of snow already on the ground and the arrival of more last weekend, local municipalities have have asked residents to help make fire hydrants accessible in the event of an emergency. (News Bulletin photo)
As the snow continues to pile up throughout the communities throughout the region are asking for assistance from citizens in the community.
If residents can not see the fire hydrants on your street they are being asked to consider "adopting" a hydrant in front of a home or in their neighborhood. 
In Elgin, for example, the  Fire Department is asking for residents to help, when and if they are able, to clear the snow from fire hydrants. Every second counts during an emergency response – visibility and access to the hydrants are important. If you are able to help, thank you for your time, effort, and interest in community safety needs.
"With 5,800 hydrants throughout the city it becomes a daunting task to keep them all shoveled out at all times, especially with the frequency of snow events we're experiencing this winter season," Fire Chief John Fahy said. "Over the next few days fire department companies will be out identifying buried hydrant locations."
The Elgin fire department uses on-board computer mapping with a satellite hydrant locating system. 
The fire department will shovel out or mark hydrants with 4 foot long pieces of wood called lathe, they will be painted fluorescent orange and the snowbank itself will also be marked with the fluorescent paint. If you see a piece of lathe painted orange or a snowbank with orange marking on it please do not park there as this will indicate a fire hydrant is in that snowbank.
For a guide to help prepare for snow storms and other winter safety tips please visit the Centers for Disease Control site: http://www.bt.cdc.gov/disasters/winter/pdf/extreme-cold-guide.pdf.
For more up to date information and additional information from the Kane County Office of Emergency Management and for Elgin specific updates on the weather and driving conditions, you can view the Elgin Police Department's Facebook page located at: https://www.facebook.com/ElginPolice, or the City of Elgin's Facebook page located at https://www.facebook.com/cityofelgin.
Persons needing  weather related assistance or having any questions can contact the Elgin 311 assistance center by dialing 311 or contact them via email at elgin311@cityofelgin.org.
For immediate emergency assistance please contact 911.
Help sought in Aurora—The Aurora Fire Department is requesting help from the community with digging out fire hydrants buried by large amounts of snowfall with the addition of snow plows pushing snow into the medians.
As in Elgin, Aurora fire engines do have hydrant locations via onboard GPS, but a clear hydrant is much faster and easier to locate and access. 
The city has also deployed over 6,000 hydrant flags to assist with hydrant location as well.  
Recent additional snowfall has made the job more difficult to keep up with for the fire companies that are  working at digging out the over 10,000 hydrants in the city.  
Elderly or disabled residents can call (630) 256-INFO to request  their hydrant be dug out.   Five to ten minutes of work can save seconds that save lives. 
–News Bulletin news sources