Bouncing back
May 8, 2014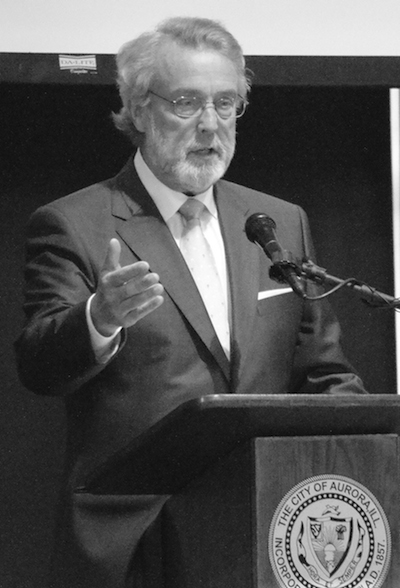 Aurora mayor Tom Weisner delivers his state of the city address. (Al Benson photo)
Perceptions catching up with reality of an Aurora that's safer, economically secure
The bad old days of a city plagued by gangs, drugs and crime are fading.
Now perceptions of Aurora are catching up with the reality of a safer, more secure and confident city.
"We're putting behind what seemed like a perpetual winter here," Mayor Tom Weisner said in his State of the City address last week. "By perpetual winter, I'm speaking literally about the last several months.  But on a metaphoric level, I'm talking about what seemed like a perpetual winter in which Aurora seemed frozen in an environment of gangs, drugs and crime."
Weisner delivered his address at a gathering at Piper's Banquets hosted by the Aurora Regional Chamber of Commerce.
Between 2003-13, major crimes in the state's second largest city plunged to the lowest since detailed statistics began being tracked in 1979:
*  Burglaries and thefts dropped 51 percent;
*  Robberies fell 56 percent;
*  Murders were down 82 percent, including one whole year without a homicide.
Major crime statistics also fell another 13.5 percent in 2013, Weisner said. 
"Today, Aurora is a better, safer, thriving place to live, work, play and raise the next generation of Aurorans," he said. "We have the lowest crime rate in Aurora since 1979 when we began keeping modern statistics. We are raising the bar and setting a new standard for safety in our community."
Movoto, a national real estate company, recently called Aurora one of the nation's top 10 safest among 100 U.S. mid-sized cities.
Weisner credited the "dedication and cooperation" of local residents, churches and schools and community groups.
"But I want to particularly thank the men and women of the Aurora Police Department  who put their lives on the line every single day to keep our city safe and to make sure that we are no longer subjected to the daily violence we see in so many other larger cities in Illinois and across the nation.
"We are letting go of our old image as a struggling, crime-ridden blue collar town dreaming of past glories," Weisner said. "We are redefining ourselves as a leader, not a follower."
As the the country moves away from deep recession of the last decade, Weisner reported that local real estate has rebounded. Last year Aurora was ranked No.1 in single family home detached sales and second in single family attached home sales in the Chicago suburban market.
The city also established four home ownership assistance programs and will invest in efforts to restore vacant and foreclosed properties to help stabilize property values. 
As the housing market recovers, other Aurora economic indicators have also evened out and are expanding.
"Last year, companies large and small invested more than $124 million in commercial construction, and added almost 300,000 new square feet to the city's landscape," Weisner said. 
"There were so many new or expanded businesses that the list reads almost like a dictionary – covering the entire alphabet from A – Americhem Systems to Zoup."
City investments in infrastructure like a 43-mile fiber optic network and rebuilt bridges and roadwork are also paying off. There's also the reviving riverfront with the RiverEdge Park that drew thousands of people to downtown for entertainment and events and will offer another season of concerts and activities this summer.
And the Paramount Theater and it's high-quality run of musicals and other entertainment is expected to draw more than 400,000 persons for shows at the landmark theater.
"Aurora has come a long way this past decade and we are positioned to go much farther," Weisner said. 
"The incredible thing about letting go of the past is that it allows you to have your hands free to grab for something higher and obtain it. The City of Aurora is now in the position to grab for something higher. We have raised the bar and raised expectations for the future."  
—Jack McCarthy