DREAM COME TRUE
January 29, 2014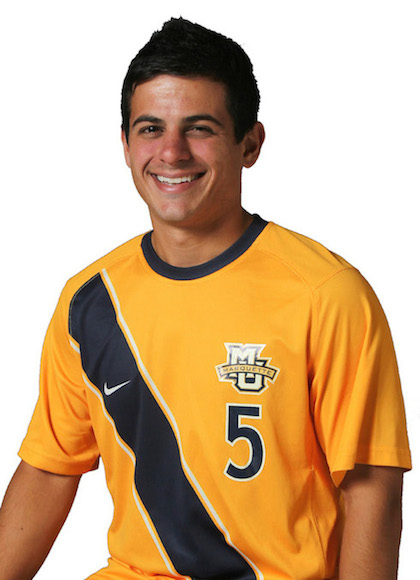 Brian Ciesiulka photo courtesy Marquette University
Neuqua Valley's Ciesiulka gets a shot at professional soccer with Chicago Fire
Bryan Ciesiulka has been a Chicago Fire soccer fan most of his life.
Now the Naperville resident has a shot at actually playing for his favorite Major League Soccer team.
The 22-year-old former Neuqua Valley High School and Marquette University star — drafted by the Fire in the final round of last week's MLS college draft — joined the team in Florida for his first training session on Sunday afternoon.
"It's exciting, something you dream about since you're a little kid. Now I have a chance to be with them and I'm looking forward to the experience."
Ciesiulka, a midfielder, is no stranger to the Fire and team officials also know him well. 
As a youth he attended games when the team played at Soldier Field, then at North Central College and followed them with other fans when Toyota Park opened in suburban Bridgeview in 2006.
"That's what makes it pretty cool," he said. "I've followed them my whole life."
But he developed his deepest links while playing on lower level Fire teams, including a stint with Chicago Fire Academy as team captain as well as on the team's Super-20 and Professional Development League squads. 
"There was always a professional atmosphere and that and the coaches helped me get a lot better," he said. "I can't thank them enough."
Ciesiulka also played with the Chicago Magic club program and won club and youth national championships.
In high school he helped Neuqua Valley to an unbeaten regular season record his senior year plus to two state tournament appearances. In 2009 he was named Gatorade Illinois Boys Soccer Player of the year.
Ciesiulka had nine goals and 17 career assists during a four-year Marquette career. He helped the Golden Eagles win their second Big East Conference regular-season title in three years this past fall and shared midfielder-of-the-year award as Marquette won its first Big East tourney championship.
Ciesiulka has originally hoped to be signed as a Fire "home grown" player — one developed through a team's system and subject to different roster rules. 
That didn't work out but the end result satisfied both sides when he was still available during the final MLS draft round and snapped up by the Fire. He was the 18th pick of the fourth round and was the 75th player chosen overall.
The Fire also acquired midfielders Zach Bolden (61st overall) and Kadeem Dacres (65th overall) in those late draft rounds.
"We have selected three players in Zach, Kadeem and Bryan that we feel can come in and compete for a place on our roster," said Fire coach Frank Yallop said in a statement. "They performed well in their collegiate careers and display qualities that we feel can fit in our system and we're looking forward to having all three players join us for preseason."
Ciesiulka now faces a quick adjustment to American soccer's top level but says he's up to the challenge.
"I think it's just adjusting to the speed of play, obviously everyone's a little faster … so adjusting to that will be important to me," he said. "(But) I'm definitely confident I can play at that level. We'll see how it goes."
—Jack McCarthy