Fields of FREEZE
March 26, 2014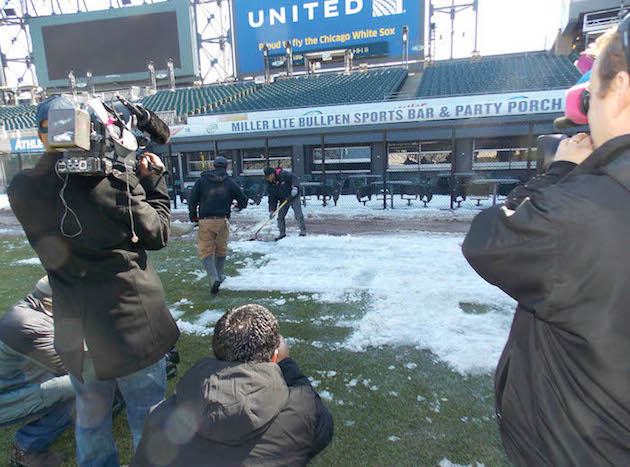 Grounds crew members were still chipping ice off the turf in right field at U.S. Cellular Field, home of the Chicago White Sox, early last week (News Bulletin photo). 
While homeowners can wait for yards to revive, Sox chief groundskeeper Roger Bossard rushes to get his big lawn in shape in time for Opening Day
Roger Bossard feels your pain.
Following brutal cold and snow the past three months, spring's first stirrings have homeowners gazing at dormant grass on their finally thawing lawns wondering just where to start.
Bossard, the Chicago White Sox' longtime chief groundskeeper, has a much bigger yard to prepare and not a lot of time to do it as the White Sox open their 2014 season next week at U.S. Cellular Field. 
But whether the turf is big or small, the challenges are similar as he talked last week about unfreezing everything from small front yards to expansive fields and coaxing grass back to life last. 
"My neighbors been asking me," he said during a press conference at U.S. Cellular Field. "They obviously can't do the things that I can do but once their frost is gone on their lawn I'd love to seem them (aerate) right away."
"The average homeowner is going to have permafrost at the four-inch depth or deeper. That inhibits the tap and feeder root growth of your (grass) plant. If they come and slightly (aerate) the soil that will help bring that plant out of dormancy and then get the first application of fertilizer down."
Bossard is among the nation's longest serving and most respected groundskeepers. Now in his 47th season with the White Sox, he worked at both old Comiskey Park and the current U.S. Cellular Field as well as other stadium projects around the country. 
Six members of Bossard's family have worked in the business. His grandfather, Emil, was Cleveland Indians head groundskeeper from 1932-68 and Bossard's father, Gene, was in charge with the White Sox from 1940-83. 
Roger Bossard joined the White Sox as his father's assistant in 1967 and became head groundskeeper upon Gene Bossard's 1983 retirement.
He talked about the daunting conditions he faced and a rush job to complete with a March 31 Opening Day looming.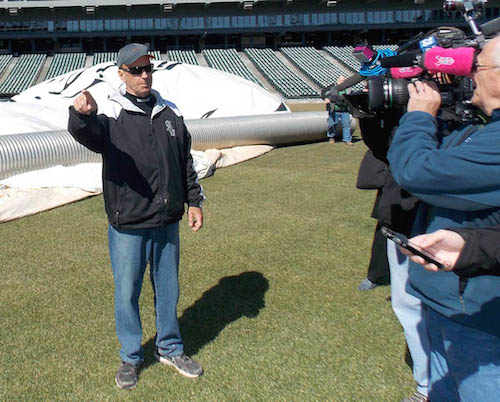 White Sox groundskeeping chief Roger Bossard talks about efforts to thaw out up to as much as 30-inches of frozen ground beneath the field. The Sox open the 2014 season next week. (News Bulletin photo)
"This has actually been the perfect storm for me," he said. "I've been in this for 45 years and I've seen a lot of snow. Certainly  that's not hard to handle. (Two weekends ago) I had my full crew come in, we took off a little more than 400 tons (of snow). My problem actually is the permafrost. I've actually never run into where I've got 30-inches of permafrost."
Bossard is utilizing two complementary strategies.
"One is called canopy heating," he said. "I'm taking my tarp and putting it over my grass and I'm making it 74 to 75 degrees underneath the tarp over the grass. I feel it's going to take me three days in each section that I use that tarp to thaw it out at least six to 10 inches.
"I'm also doing something a little bit different," he added. "I'm actually taking hot forced air and putting it into my drainage system. Very few people have done that. I've actually done that into a couple of stadiums that I had built in the past. It works well. So what I'm doing is getting the heat out from the top, I'm also throwing heat in my draining system from the bottom."
Homeowners don't have Bossard's resources and have to let nature take its course. And 60-degree days like much of northern Illinois experienced last week are a good start.
Despite Bossard's limited time he remains confident he'll have U.S. Cellular Field ready to go next week.
"The back's against the wall a little bit," he said. "But I've got a good crew and I'm doing everything I can here and I'm really comfortable that we're not only going to be able to open on Opening Day but have the workout the day before."
—Jack McCarthy