Geneva City Hall to Mark Centennial
February 15, 2012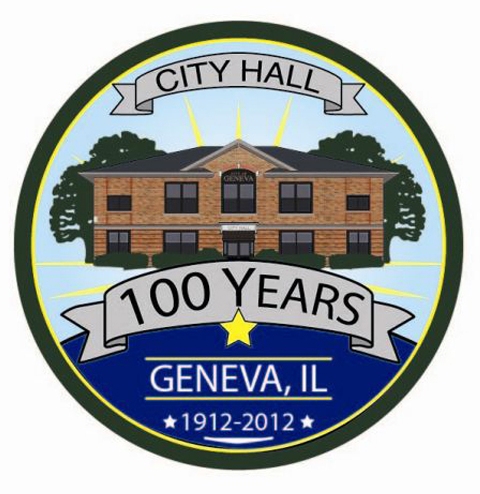 Centenial Celebration logo, designed by Geneva High School student Kevin Brouillette.  Image provided by City of Geneva.
In its earliest days, Geneva's City Hall contained offices for the City Clerk, an auditorium, a jail, and housing for a fire truck.
The structure is still in use and will celebrate its 100th birthday on May 19 with a celebration at the building, 22 S. First St.
The public is cordially invited to participate in activities that will not only celebrate the building's history, but also be history-making. The contents of the building's original cornerstone time capsule will be unveiled and items for a new cornerstone will be on display.
Visitors will be able to learn how the use of City Hall evolved over the years, and the stories of its past.  Also planned is a rededication of City Hall.
The celebration will feature performances by the Geneva High School Marching Band. Also, light refreshments will be served.
What is now City Council Chambers, used to be an auditorium where bands played and theatre performances were held.
Geneva High School student Kevin Brouillette designed a special logo for the City Hall Centennial Celebration.  An official Geneva City Hall Centennial Commemorative Coin will showcase his artwork.