Individual Play Highlights NIU Spring Game
April 17, 2013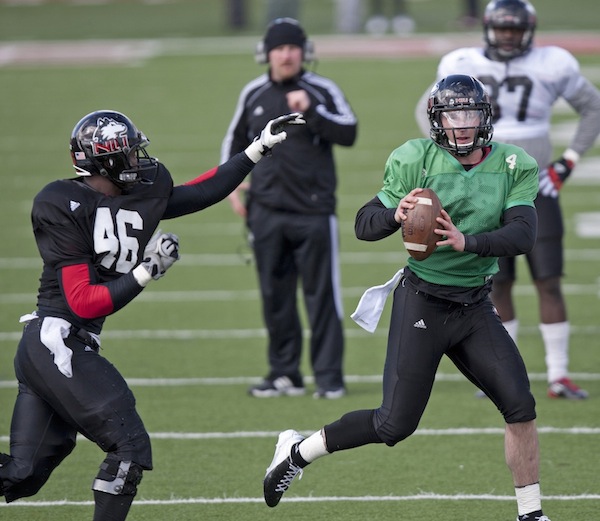 Returning NIU quarterback Jordan Lynch looks for a target while scrambling during NIU's spring game at Huskie Stadium last Saturday.  Photo by News Bulletin staff.
Admittedly, calling last Saturday's Northern Illinois football practice a "Spring Game" was a little bit of a misnomer in terms of both the "spring" and the "game".   
With temperatures in the low 40s and winds measured near 20 miles per hour at times, spring has not quite arrived in Northern Illinois.  And when NIU's spring football practices were pushed back a week due to weather, Saturday's "game" turned into a controlled scrimmage.
That did not stop hundreds of football-hungry Huskie fans from coming out to catch their first glimpse of the 2013 football team, see the flag commemorating NIU's trip to the 2013 Discover Orange Bowl raised and applaud as Northern Illinois' 2013 seniors received their Orange Bowl rings.   
The Huskies scrimmaged for about 75 minutes with both the offense and the defense having their moments.  NIU Head Coach Rod Carey said he and the staff look closely at the individual performances at this time of year.
"You have to individualize it, because if you look at it as a whole, if the offense did [well] then you're upset with the defense and vice versa," Carey said. "There were a lot of good plays made by a lot of defensive guys and the same on the offensive side. Guys are moving up the depth chart, which is what we want."
Statistically, quarterback Drew Hare had the most impressive day as he completed 14-of-17 passes for 150 yards and two touchdowns Saturday.  Both of his touchdown passes – of 20 and five yards – went to Angelo Sebastiano in the situational scrimmage at the end of the session.  Hare also ran for a six-yard touchdown and totaled six carries for 20 yards on the day. 
Hare's fellow back-ups – Matt McIntosh  and Matt Williams (Geneva) – also had their moments Saturday. Williams completed six-of-10 passes for 88 yards and two scores with touchdowns to Tommylee Lewis (19 yards) and Cameron Stingily (15 yards).  The highlight of McIntosh's four-of-nine passing day for 22 yards was a 50-yard touchdown run on the quarterback keeper.  
"They [Hare, McIntosh and Williams] all do some good things, they all do some bad things," Carey said. "Just from what I saw and not looking at film, the ball seemed to move with Drew Hare in there quite a bit." 
As for the "other" Huskie quarterback, Jordan Lynch, he completed five-of-seven passes for 48 yards, including a six-yard touchdown pass during the red zone situations.  Lynch ran for 21 yards on two carries in limited work, by design according to Carey.
"He didn't take many reps today, he didn't need to on a day like this," Carey said. "He gets all the reps he needs during the week.  You can see that the comfort [he has with the offense], he's made a lot of strides this spring."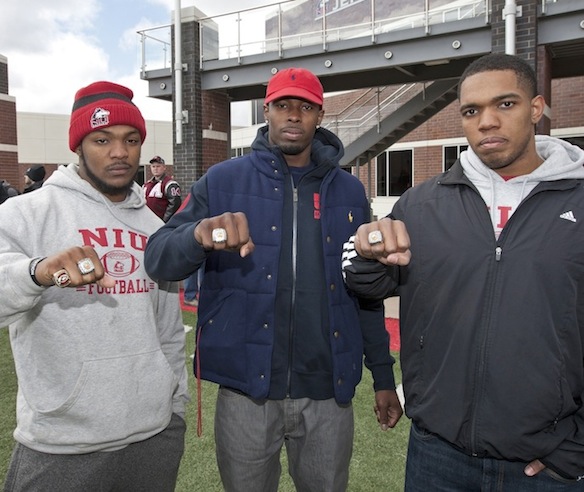 Above, NIU players show off their Orange Bowl rings.  Below, Sean Progar and Jason Schleper (left) raise the Orange Bowl flag from Northern Illinois' appearance at their first major bowl game last January, during NIU's spring game at Huskie Stadium last Saturday.  Photos by News Bulletin staff.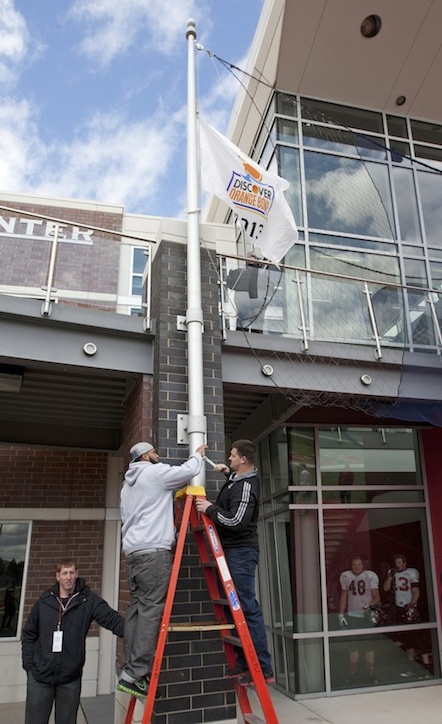 Defensively, aside from the one long run by McIntosh, NIU contained the Huskies' rushing game.  Giorgio Bowers carried the ball 10 times for 35 yards to lead the way. Eight players gained 15 or more yards, all on multiple rushes. 
Sebastiano caught seven passes for 95 yards and two scores to lead all receivers and Da'Ron Brown had four catches for 58 yards.   Twelve players caught passes Saturday and 11 different Huskies rushed the ball. 
It is all a part of what is supposed to happen during spring, according to Carey.
"We're looking for a lot because it's a brand new team," Carey said. "No matter how many returning starters you have or what the paper says, it's a brand new team. We'll go in and look at the film.  As soon as we look at that film, we make depth chart decisions every day."
In the end, Carey knows that he really won't know anything about his team until the 2013 Huskies line up against Iowa in Iowa City on Aug. 31. 
"You're never really going to know about your team until the first game," he said.  "I'm happy with the team.  They are working hard every day.  As a coach, you always see the weaknesses and you work every day to improve those weaknesses and build on your strengths."
The first "Huskie Bowl" will be played on Saturday, April 20 at 1 p.m. and will mark the official end of 2013 spring practices. 
Head coaches Joe Tripodi and Kevin Kane will lead the Cardinal (Kane) and Black (Tripodi) teams selected through a draft held last week.  During the final week of practice, the respective coaching staffs will work with "their" teams in preparation for Saturday's game.  
Coordinators Bob Cole and Jay Niemann will work with the offense and defense, respectively, for both teams.  For extra incentive, the winning Huskie Bowl team will enjoy a steak dinner, while the losers will eat hot dogs and beans.
Season tickets for NIU's 2013 home schedule are on sale now.  
The new Huskieland Plan, which includes a ticket to all five home games (sections A and G) and $50 in Doggie Dollars good for parking and/or concessions, is just $50. 
All remaining season ticket locations for the 2013 Huskie Stadium home slate are just $100 while NIU Alumni Association members, senior citizens (62+), youth (3-13), NIU Varsity Club (former letterwinners) members and faculty and staff can see every game for just $88.  
For tickets, call 815-753-1923 or log on to www.NIUHuskies.com/tickets for more information.