Man on Wheels Creates a Rolling Book Bin for Library
March 27, 2013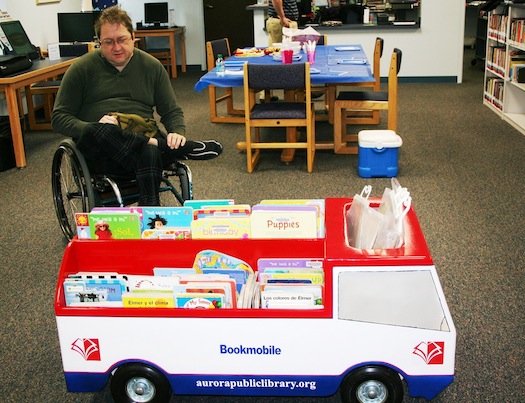 Jeff Weber and his creation, a rolling bookmobile bin for the Aurora Public Library.
– Contributed by Amy Roth
It may be callous to say Jeff  Weber lived through a car accident 27 years ago so he would be able to make something as inconsequential as a children's book bin for the Aurora Public Library's Express Center.
In fact, it would be callous to say that. But it would be even more callous to write off this brilliant man because he rolls instead of walks.
An accident on Kirk Road on the border of Geneva and St. Charles in 1986 put Weber in a wheelchair at age 18. He is now 45.
"I got hit and thrown out of the car," Weber said. "My back was broken. I spent two weeks at Central DuPage Hospital and three months doing rehabilitation at Marianjoy (Rehabilitation Hospital in Wheaton)."
Weber, who grew up "in and around Aurora and Batavia," now lives in North Aurora.
While in high school, he worked as a projectionist at several area theaters, including the Isle Theatre in Aurora, the Cascade Drive-In in West Chicago and the Wheaton Theater. He also worked the big, live shows at the Paramount doing load-in / load-out.
(His granddad was Elmer States, the business agent for the International Alliance of Theatrical State Employees (IATSE), which explains why Weber's first jobs were in theatres.)
But Weber enjoyed and was good at his high school classes in wood shop, metal shop and technical drawing. He took an unpaid apprenticeship at a body shop so he could try his hand at more creative work.
"I was really drawn to body shop work. I liked putting cars back into the shape they should have been before people bent them," he said with a smile. He also enjoyed working on custom cars.
Just before the accident, he said, he was starting to receive training in running the spotlight at the Paramount. "It would have been more demanding work and more responsibility," he said.
But then the accident happened (three months before his 19th birthday), and job training, working, and life itself, had to be put on hold.
"The accident changed the game," Weber said. "The jobs I was doing just couldn't be done from a wheelchair.
"I spent a few years keeping busy, I guess you could say. But I had no direction. And there were lots of well-meaning people saying that I might be able to walk again. That things might change. So I spent some time waiting for that change.
"And the other part of it is when you're in a wheelchair, no one expects you to do anything.
"It took awhile, but eventually I went to school: two years at Waubonsee Community College and three years at Eastern Illinois University." His original thought was to "do something with computers."
He remembers that English wasn't his best subject in high school, but "something changed" when he got to college. So he enrolled in journalism courses. He became editor-in-chief of the WCC student newspaper, Insight, and also took up creative writing. He also was co-editor-in-chief of an EIU student/faculty publication. He became disillusioned with journalism, though, and graduated with a degree in English and a minor in creative writing.
He then went to Northern Illinois University to pursue a master's degree in technical communication, but studied there only one semester.
One thing he was drawn back to was auto body work.
During his last semester at EIU, he restored a three-wheel 1961 Harley Davidson Servi-car. He and brothers John and Steve took the bike to the Sturgis Motorcycle Rally in South Dakota in 1997, the same year he graduated from EIU.
"I decided maybe that's what I was supposed to be doing," Weber said. "Working with my hands."
He has made everything from furniture to high-end wood pens to amplifier cabinets to tattoo machines to candles to guitars. "The joke is I can make anything except money," Weber laughed.
When the Aurora Public Library's Outreach Service Manager, Kathleen Butzen, asked this columnist if I knew anyone who could build a wooden book bin that would resemble the library's bookmobile, I immediately thought of Jeff.
My thought-process went something like this: If he can build a guitar, surely he can build a book bin!
I didn't expect him to build it for free, but I did ask if he could build it at a lower cost than a truck-shaped book bin we had seen in a catalog. Because he is a believer in libraries, an extremely community-minded person and someone who is always looking for the next challenge, he agreed.
And, through a lot of blood, sweat, tears, and about 100 hours of labor, Weber produced a beautiful red, white and blue bookmobile bin for the library's new Express Center on the corner of Church Road and Edison Avenue. The custom-made, pleasant-faced bin has been the hit of the Express Center since it opened last September.
"Money is nice because it pays the bills," Weber said. "But besides that, it really isn't good for much more than buying more materials for more projects. Knowing people get a kick out of what I've created means more to me.
To see the Aurora Public Library Bookmobile bin, go to the Express Center at 1100 Church Road. Some of Weber's custom guitars are on display at Chef Amaury's Epicurean Affair at 33 W. New York Street, Aurora. Check out his webpage at howjeffrolls.com or contact him at howjeffrolls@gmail.com.
Article by Amy Roth, Aurora Public Library.