NOT YOUR TYPICAL PARK
May 14, 2014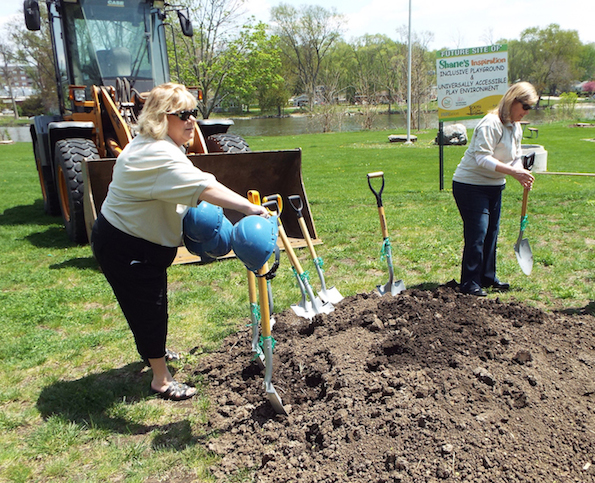 Ground was broken at SEBA Park in South Elgin last Saturday for a unique all-inclusive playground for children of all abilities. (News Bulletin photo)
South Elgin playground aims to serve all—especially special needs kids
There will be no barriers to play at a one-of-a-kind park in South Elgin.
Ground was broken last Saturday at the riverfront SEBA Park for a unique outdoor playground designed to be accessible to children of all abilities.
A $1.3 million effort is partly funded through $400,000 grant from the state's Department of Natural Resources and $350,000 grant from the South Elgin-based Hoffer Foundation.
The non-profit FUNdation of South Elgin is working to raise the balance of around $500,000.
"We've been raising funds for the last three years towards an all-inclusive playground facility." said Karen Cluchey, FUNdation playground committee chairman. "And with the help of many financial donors — public, private, grants, foundations — we've actually raised enough money to start building the first phase of the project."
Plans for the redeveloped SEBA Park, located in downtown South Elgin on the west bank of the Fox River, call for fully accessible playground for children of all ages and abilities that will be unique in Illinois.
"One piece of equipment in the first phase is a piece of equipment that kind of looks like a small boat, you can ramp up into it with a wheelchair … and the entire family can hop in and then it moves back-and-forth. The equipment you can find through other facilities through the country, what is happening here is not like anything else in the area."
Work is projected to begin this summer with a projected opening by Spring 2015.
"The first phase will include the (age) 5-12 ability level section," Cluchey said. "There will be equipment focused on upper body strength — which is often an issue with children with disabilities. We've worked with a design team to learn and know what equipment will be inclusive of everyone, helping these children — and anybody — to be able to enjoy it."
The South Elgin park is inspired by groundbreaking Southern California efforts by Catherine Curry-Williams and Scott Williams following the 1997 death of their son, Shane Alexander to Spinal Muscular Atrophy only a few weeks after his birth.  Had he lived, Shane would have been confined to a wheelchair.
As a tribute to their son, the couple created  the Shane's Inspiration foundation to help build playgrounds to give all kids — including children with disabilities like Down Syndrome, Autism and Cerebral Palsy — the ability to play together. 
Their efforts have led to creation of 40 accessible playground projects in Southern California and around the nation and world.
The Shane's Inspiration web page describes the need for play:
"We routinely deny children with disabilities entrance onto the playground, as the majority of traditional playgrounds are physically inaccessible to them," according to a statement on the site (shanesinspiration.org). "And when children with disabilities can reach the structure, there are only one or two pieces of equipment available to them, leaving them out of the majority of play activities. This means children with disabilities are denied access not only to their social circle but also to the vital benefits of play: physical development, cognitive growth, and social development, among others."
The South Elgin organizations have worked with and been motivated by Shane's Inspiration. 
"(Shane's Inspiration) kind of opened our eyes as to the needs of children that go well beyond the ADA (Americans with Disability Act) requirements," Cluchey said. "They have grown globally and we are glad to be one of their playgrounds."
Tax-deductible donations from individuals, community or corporate groups are welcome. For more information contact Cluchey at (224) 856-0523 by email  at kclucheyfundation@gmail.com.
—Jack McCarthy