Suburban News Briefs
Chronicle Media —

October 14, 2015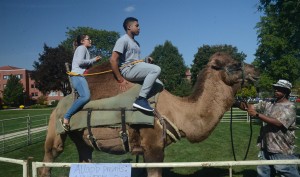 KANE COUNTY
15 charged after fight at Kane County jail
Fifteen men at the Kane County Adult Justice Center faces charges after a fight late last month that involved as many as 33 detainees.
The Kane County Sheriff's office recently announced charges in the aftermath of a disturbance which occurred on Sept. 27 and involved as many as 33 of 63 detainees in a cell block. Eleven inmates were charged with aggravated battery and four for resisting a correctional officer.
According to the sheriff's department press release, the fight started at around 11 a.m. Sunday, Sept. 27.
"The lone officer assigned to that cell block called for assistance," the press release said. "Additional corrections officers responded to the cell block, and they were able to take control of the incident."
The release said the incident lasted about five minutes, from the time the officer working the cell block called for assistance to the time all the inmates were secured in their cells.
AURORA
Record numbers attend WCC employment fair
The Aurora Job Fair saw record attendance this year, with 459 job seekers attending to meet with more than 70 employers. That turnout came after employer registration filled to capacity faster than ever.
In collaboration with U.S. Rep. Bill Foster, Illinois Department of Employment Security, City of Aurora, and Hollywood Casino, the college hosted the fair last month at Waubonsee College.
"We were surprised how quickly the employer registration and very pleased with how many people used the new option to register in advance," said Julie Bechtold, Waubonsee Career Development Center Manager.
Employers who attended were hiring for internships, part-time and full-time positions. Registered employers included Grainger, Mariano's, Butterball, Dukane Precast, Rush-Copley Medical Center and Peacock Engineering. Senator Linda Holmes was in attendance, as was Maria DeLeon, representing Congressman Bill Foster's Office.
The next job fair will take place April 8, 2016 at the Sugar Grove campus.
Water main replacement work starts on Prairie
Crews have started a water main replacement project on Prairie Street – from Lake Street (Route 31) to Heywood Avenue.
During construction, Prairie Street will remain open to two-way traffic at all times.
Lanes will be reduced in width and shifted to the north side of the roadway. Side roads and entrances will be blocked periodically, with detours posted daily as necessary. Parking along Prairie Street will be restricted in the construction area.
This project is expected to be completed by the end of November, weather permitting.
—Suburban News Briefs–