Three people wounded in two, separate Aurora shootings
By Erika Wurst For Chronicle Media —

May 19, 2017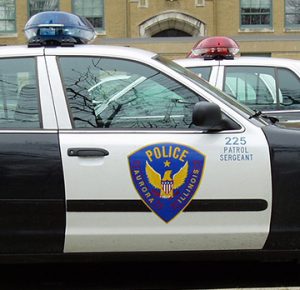 Three people were injured during two separate shooting incidents that occurred on May 18 in Aurora.
According to Aurora Police Department spokesman Dan Ferrelli, the first incident occurred around 12:25 p.m. outside a home in the 100 block of Chestnut Street on the city's Near West Side.
Two Aurora men, ages 19 and 25, were standing on the home's front porch when they were struck by gunfire, Ferrelli said
"While the victims provided little information to the police, detectives learned that the shots were apparently fired by two men who both approached and fled on foot," Ferrelli said.
Aurora Fire Department Paramedics transported the 19-year-old man to an Aurora hospital for treatment while the 25-year-old was driven to the same hospital by an unknown driver. Both men were treated for non-life threatening gunshot wounds to their torsos, Ferrelli said.
No suspect descriptions for the alleged shooters were provided.
The second incident occurred in the 400 block of Melrose on the Near South East Side where between 20 and 40 people were gathered in an apartment complex courtyard.
At around 9:50 p.m., two suspects — each dressed in dark clothing — fired numerous shots into the crowd, which included women and children.
A 27-year-old Aurora man was struck by a single bullet and sustained a non-life threatening wound to his abdomen, Ferrelli said. He was driven to an Aurora hospital by two men, ages 21 and 26.
Witnesses said that following the shooting, the suspects ran northeast where they got into a silver or gray four-door vehicle. The vehicle fled eastbound on Melrose Street to northbound Fifth Street. Police said there are no further descriptions of either the suspects or the vehicle they were in.
One of the apartment buildings in the complex was struck by gunfire numerous times during the incident, but there were no further injuries to anyone in the courtyard.
Clear motives in both shootings have not been established, however, gang-motivation has not been ruled out, Ferrelli said.  It is not known if the incidents are related, he said.
Anyone with information is asked to call Aurora Police Investigations at (630) 256-5500 or Aurora Area Crime Stoppers at (630) 892-1000. Calls to Crime Stoppers that lead to an arrest qualify for a cash reward of up to $5000. Tips can also be submitted through the Aurora Police Department's free app available from iTunes, the Android Market, or Amazon App Store. Simply search for "My Police Department", find the Aurora Police, and download.