Creativity Center Mobile Fundraiser
June 4, 2014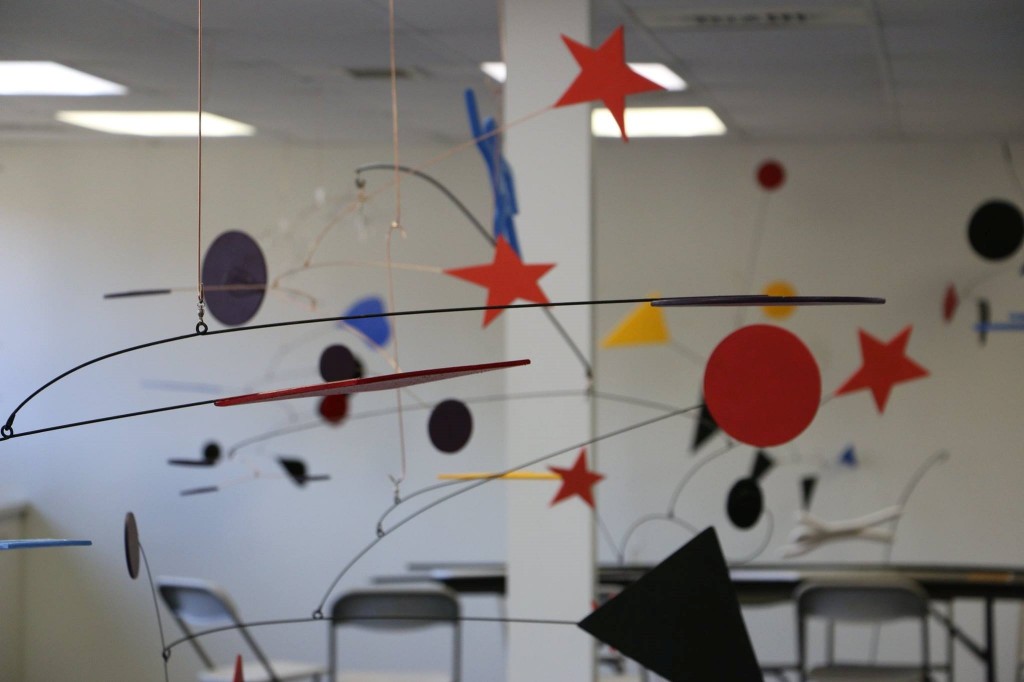 Photo Courtesy of Bloomington Center for the Performing Arts
by Ryan Martin
This April students from around McLean County participated in a mobile sculpture building workshop at the Bloomington Center for the Performing Art's Creativity Center.
Students in age groups ranging from elementary to high school participated in the workshops, working together to create unique mobile sculptures.
The program was led by artist Kevin Reese, who travels across the country working at schools and community centers to help students create various types of mobiles.
Reese worked with students at the Creativity center for a week, hosting workshop sessions for around 15 students each, lasting around one and half to two hours long.
In each session Reese would explain the project, the students would cut shapes out of foam core, paint them, and attach them to the mobile with help from Reese.
"They built the mobiles from the ground up, it was a start to finish project in each class," Graham Cowger, Developmental Director for Bloomington Center for the Performing Arts, said. "Each class was able to work together to produce a finished product that they could be proud of."
The workshops resulted in 21 individual mobiles, seven of which were combined together to make an even larger mobile that is now hanging in the Bloomington Center for Performing Art's lobby.
The Creativity Center is now looking to raise money for the center by having people in the community sponsor the mobiles so they can be placed in either the school that created them, the BCPA lobby, or the sponsors own home or business.
"The more support we have from the community, the more programs like this we can present to the community," Cowger said. "The money we receive from the sponsors will go towards continuing our programming here at the Creativity Center."
All $250 sponsors will receive recognition on a plaque in the BCPA lobby, a framed certificate of support, and recognition in a playbill.
The Creativity Center is a 33,000 sq. ft. former medical building, which is located directly north of the BCPA. The center is currently hosting a variety of arts-education programs and developing partnerships with community art organization to provide space for rehearsals, performance, and instruction.
"It's kind of sterile and ugly right now, but its perfectly safe and provides space for artists to create," Cowger said. "We want to use it right now and establish a need in the community for a place like this."
The center is looking to raise public awareness and community support for the center in hopes of a successful large scale fundraiser in the future.
"Eventually we're going to have a large scale fundraising campaign so we can really make this place amazing," Cowger said.  "We want to renovate the entire building and make it into a mix used community art center."
The post renovation center will include such things as a black box theatre, classrooms for fine art instruction, dance studios, music practice rooms, a recording studio, office space, and more. The center hopes to inspire a variety of types of art and make quality space for community art organizations more accessible.
Those who are interested in sponsoring a mobile can contact Graham Cowger at gcowger@cityblm.org.