Gerald Erley Exhibit at Heartland Community College
March 19, 2014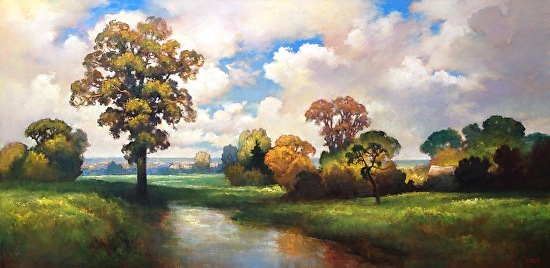 Photo courtesy of Gerald Erley.
From now through May 2nd, Heartland Community College will be hosting an exhibit of oil paintings by Gerard Erley.
The exhibit, entitled Gerard Erley: Landscape and Floral Paintings, will be on display at the Joe McCauley Gallery located at Heartland's Normal campus. 
The paintings on display will feature two of Erley's distinct bodies of work, landscapes and florals. 
"The landscape paintings represent a direction to which I have been committed for a number of years," Erley said. "Although these paintings present the landscape, I do not paint nature in an attempt to duplicate what the eye sees. Rather, landscape imagery is explored for its expressive potential, and its unique emotional language."
The landscapes Erley paints are created by himself, without the aid of photographs or sketches. 
"I rely on a mixture of impressions from nature, an awareness of art history, and a healthy dose of intuition," Erley said. "What I hope to realize in paint is something both poetic and persuasively real."
Erley focuses less on specific details in his paintings to create more engaged viewers. 
"I like to be more suggestive with what I put down on the canvas," Erley said. "I like to engage the viewers so they participate and complete the painting themselves."
The floral paintings that will be featured in the exhibit are a recent exploration of Erley. 
"In [the paintings], I reference actual flowers as I paint," Erley said. "The blooms provide intense colors, unique shapes, and perhaps potent aromas, all of which inspire my visual journey."
On March 20th at 3 pm Erley himself will be giving a painting demonstration.
"During the demonstration I'll show and explain how I use thin transparent layers of color to give light and life to my paintings," Erley said.
Following the demonstration at 4 pm there will be a reception in the gallery that will last until 5:30 pm. 
Though this is the first time Erley has had his paintings exhibited at Heartland, he knows the area well as an Illinois native and Illinois State University graduate. Erley currently lives in South Carolina, but enjoys coming back and visiting the area. 
"To me [the Bloomington-Normal area] is like home," Erley said. "I've been here in South Carolina for an extended period of time, so I always look forward to coming back."
Even the drive up to Illinois provides Erley with inspiration and excitement. 
"I love the openness of the Illinois landscape," Erley said. "When I'm driving on the highway the sky dominates everything, which to me is just wonderful."
During Erley's 40 years of painting he has had over two-dozen solo exhibits throughout the United States. He has also won numerous awards, including Best of Show at the Sugar Creek Art Festival in Normal, and the Spring Bloom Arts Festival in Bloomington. 
The exhibit will be hosted in the Joe McCauley Gallery, which is located in Room ICB 2507 of the Instructional Commons Building on Heartland's Normal campus, at 1500 W. Raab Road. The painting demonstration will be held on March 20th at 3 pm in room ICB 2602, with the reception taking place in the gallery from 4 to 5:30 pm. 
The exhibit and parking at the Joe McCauley Gallery are free, with hours on weekdays from 9 am to 4 pm on days the college is open. 
For more information on the exhibit and gallery you can contact Heartland's Liberal Arts and Social Sciences Department at 309-268-8620.