Last Days of Summer Concerts
September 11, 2013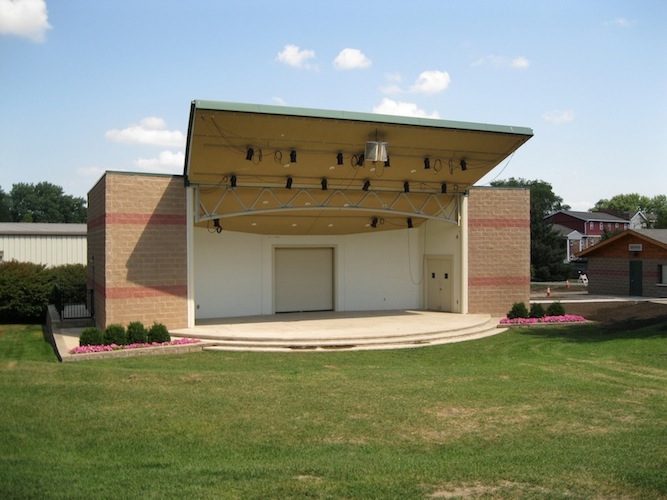 Photo by Ryan Martin.
Summer may be winding down, but the Annual Normal Parks and Recreation summer concert series is still going strong. 
This year marks the fourth annual concert series that runs from the third weekend of May through the end of September. The concerts take place on a weekly basis, with some weekends having multiple concerts. 
The concerts are hosted at The Connie Link Amphitheater on Thursdays, Fridays, Saturdays, and Sundays. All the concerts are free, and people are free to come and go as they please. 
Colette Farner, the Cultural Arts Supervisor for the Normal Parks and Recreation department who organizes the concert series explained one of the unique aspects of the amphitheater. "It's unique because it's accessible from the Constitution Trail, so people can either choose to walk or ride their bikes to get there if they don't want to drive." said Farner. 
The Constitution Trail is a beautiful trail that stretches over 30 miles and runs through Bloomington and Normal. The trail connects to many of the local parks and venues, as well as uptown Normal's Children Museum. 
The theatre does not have seats, rather has natural grass terraces, so it is recommended that you bring either lawn chairs, blankets, or something to sit on.
During the concerts a concession stand will be selling popcorn, soda, water, and a variety of different snacks, all for just one dollar. 
Each concert features a different band or artist playing a variety of types of music.
"We try to get a variety of different genres of music, so we can catch as many people as possible." explained Farner. 
The upcoming shows include:
Saturday, September 14th, The Blurklezurps, 6:00 PM – 8:00 PM. The Blurklezurps are a local band that play sets that combine Rock, Blues, Pop, R&B, and Funk. They play classics from the 80s from such bands as REO Speedwagon, The Police, Cheap Trick, Men at Work and more. They also play more modern songs from bands such as Jimmy Eat World, Matchbox 20, Evanescense, and Flyleaf. 
Friday, September 20th, Biscuits-N-Gravy, 6:00 PM-8:00 PM. Biscuits-N-Gravy play an extremely wide variety of songs and genres. Bands they cover include AC/DC, The Beatles, Billy Idol, Boston, Def Leppard, Elvis, Johnny Cash, Katy Perry, KISS, Michael Jackson, Rascal Flatts, Sheryl Crow, Jimmy Buffet, The Who, and many many more. 
Sunday, September 22nd, Marc Boon & The Unknown Legends, 4:00 PM – 6:00 PM. Marc Boon & The Unknown Legends play a blend of classic rock with a touch of Americana, splash of blues, dash of funk, a breath of country, and a shot of folk rock, according to their website. They play covers from bands such as The Beatles, The Zombies, Big House, The Grateful Dead, Led Zeppelin, and more.
Saturday, September 28th, Denise La Grassa, 5:00 PM – 7:00 PM. Denise La Grassa is a Chicago based musician that plays original Jazz music. She has garnered praise from many critics, including ones from The Chicago Tribune and Chicago Sun Times, for her strong songwriting and unique performances. 
Sunday, September 29th, One Day Closer, 2:00 PM – 4:00 PM. One Day Closer is a Bloomington based Christian Rock band that plays both original songs and covers. Their shows are said to be very energetic and inspiring. Artists they cover include The Reach, Jordan Shaft, Red Letter Road, and Look Up. 
The Connie Link Amphitheater is located at 621 South Linden St. in Normal.
If you are interested in taking the Constitution Trail to the concert, but don't know the trail well maps are available at their website http://www.constitutiontrail.org.