United Way Announces New President & CEO
April 2, 2014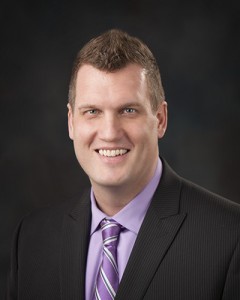 Photo of David Taylor Courtesy of United Way of Mclean County
United Way of McLean County has recently named a new President and CEO, after a multiple month search following the resignation of former CEO Greg Cott in October. 
David Taylor will become the next President and CEO effective April 28th. Taylor is currently an Underwriting/Business Analyst at State Farm Insurance, where he has been employed for 17 years.
"We are extremely pleased with the selection of David Taylor as the new President and CEO of United Way of McLean County," Ann Frederick, Board Chair of United Way of McLean County, said. "We are confident his proven leadership and management experience, knowledge of the community, and commitment to partnership will serve him well in this position, and help him to lead the organization into the future."
Alan Chapman, a retired Unit 5 superintendent, has been serving as interim CEO and President since Cott stepped down in October. Chapman will continue working as CEO through April 25th. 
A lifelong resident of McLean County, Taylor graduated from Illinois Wesleyan University with a Bachelor of Arts degree. Taylor has been a volunteer for United Way of McLean County since 2008, and has represented the Community Impact Cabinet and Campaign Cabinet. Currently he serves as Chair of the Education Solutions Team. 
In addition to volunteer work at United Way, Taylor also works as a volunteer for the Children's Advocacy Center and Eastview Christian Church.
"I am honored and humbled by the opportunity to serve and lead this great organization," Taylor said. "United Way of McLean County is dedicated to improving peoples' lives in our community, and I look forward to collaborating with our community partners to identify the solutions necessary to meet the needs of tomorrow."
During his time at State Farm Insurance Taylor played a large role in multiple sales and product launches, while developing strategic partnerships and managing a multi-state team. 
"Under David's leadership, I'm certain United Way of McLean County will continue to develop its programs and strengthen relationships with our funded partners, donors, local businesses and schools," Frederick said.
In addition to announcing a new President/CEO, United Way also announced a new Vice President of Operations. Gina Mandros was promoted to the position after more than five years with United Way. She currently works as the Senior Director of Resource Development, and will take over the new position effective April 28th. 
As Vice President of Operations Mandros will be responsible for most of the day to day operations of the office, which include finance, accounting, administrative duties, and communication. 
Since 1935, United Way of McLean County has been working to advance the common good of residents in McLean County. Through its partnership with various organizations, United Way dedicates itself to social issues and focuses on improving lives in education, income, and health. They work to create long term community changes by tackling the underlying causes of the most important issues in the area. 
To learn more about all that United Way of McLean County does for the community, you can visit their website at http://www.uwaymc.org.