Bartonville Community Fish Fry Raises $8,000 for Police K-9
April 3, 2013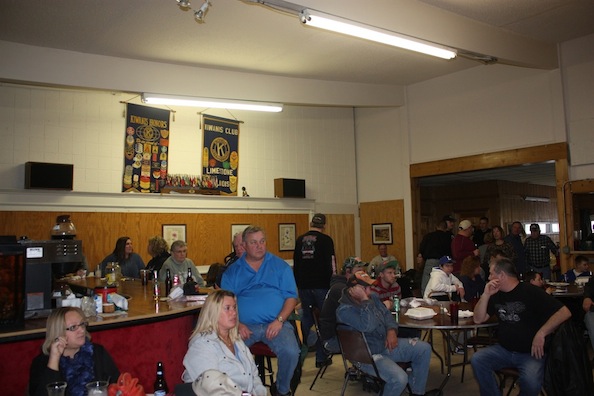 Photo of the community fish fry provided by Bartonville Police Chief Brian Fengel.
BARTONVILLE — With no money in the Bartonville Police Department budget for a new K-9 dog, members of the Bartonville community organized a fish fry last week to raise money for the department's Police Canine Fund.
In the midst of a snowstorm, over 300 people attended the fish fry that was held at the Phoenix Club II, 4602 Pfeiffer Rd., Bartonville, on March 25, and raised over $8,000. Those who attended the fish fry were asked to make a $10 donation.
"For a snowstorm, we had a great turnout," said Bartonville Police Chief Brian Fengel. "A lot of great community support from elected officials, people throughout the community.  Hamm's Fish Fry Inc. Breading Mix and A Ad Welding, Inc. cooked all the fish and donated all the fish. We went through over 150 pounds of fish."
The department plans to retire its current K-9 dog, a Dutch Shepherd named Shadow, in May. 
"The reason he's getting wore out is because he's got hip dysplasia and that's a common thing with shepherds," said Fengel. 
In 2006, former Illinois Senator George Shadid secured a $30,000 grant that allowed the village to purchase Shadow, it's first-ever K-9 dog. The K-9 was named after Shadid, who went by the nickname of "Shadow" in his youth. 
"That's what they used to call George Shadid when he was in school," said Fengel. "That's why we came up with the name of 'Shadow.'"
Shadow was two years old when the department started using him as a K-9, on May 15, 2006. Prior to serving the department, Shadow went through a 10-week training course where he finished in the top of his class.
From May of 2006 to December of 2012, Shadow helped the Bartonville Police Department make 557 misdemeanour arrests and 120 felony arrests. He has helped the department seize 30 hits of ecstasy, 236 grams of psilocybin mushrooms, 23,727 grams of cannabis, 656 grams of cocaine, 19 grams of crack cocaine, 13 grams of methamphetamine, nine grams of heroin, 337 pieces of drug paraphernalia, 21 grams of synthetic drugs and 212 pills of illegal Rx drugs. 
Shadow is 10 years old. K-9 dogs typically serve police agencies for 8-10 years, said Fengel. 
"The average is eight, 10 if you're doing good," said Fengel. 
When the department retires Shadow in May, he will be sent to a home for retired K-9 dogs.
"Ours is going to a good home with a guy that does some training with dogs," said Fengel. "He's familiar with these dogs. Because they're police dogs, they're really not pets."
According to Fengel, the department has enough money to purchase and train a new K-9 dog.
"Dogs run anywhere from $6,000 to $8,000, and then you've got training on top of that," said Fengel. "We send our people to the Illinois State Police Academy for K-9s and they're certified in tracking, bite works and narcotics."
The department will purchase a new K-9 when Shadow retires in May. They will purchase either a Dutch Shepherd or Belgian Malinois.