Event to Preview New Children's Learning Museum
March 19, 2014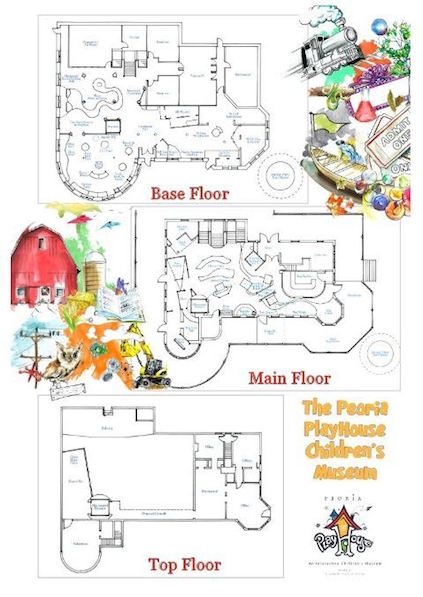 Peoria PlayHouse Children's Museum floor plan.  Image courtesy of Jennifer Spokes.
Although Peoria already has a dedicated museum, it does lack a museum space dedicated completely to children. A Peoria Zoo event in April, called Before Party, hopes to bring people across the city together to discuss the upcoming Peoria PlayHouse Children's Museum prior to its construction later this year.
The idea of Peoria children's museum and its subsequent development, exploration and fundraising has been the 10 year work of the Junior League of Peoria, a 78 year-old organization dedicated to improving the area. It is a facility that many think Peoria needs.
"We're the only city our size that doesn't have a children's museum and a space that's directly dedicated for children 0 to 8, and that's what we're offering, a space that compliments [and adds] to our education structure,"  Jennifer Spokes, the development coordinator for the Peoria Zoological Society, said.
The future museum will feature six hands-on exhibits for children of all skill levels and abilities. The different exhibits will allow children to learn about construction, the Illinois River, Illinois farming, Peoria's vaudeville history, and science topics like gravity and speed.
"Children's museums should not seem to have dropped from the sky and landed in a community," Mary Sinker, a child development specialist and museum exhibit developer who is acting as a consultant on the project, said according to Peoria PlayHouse's website.
"They must grow from the rich soil that shapes the lives of those who will visit the facility regularly," Sinker added. "They must be cut from the cloth of the community and be filled with the history and uniqueness of that area."
Along with a kids' classroom, an art classroom, some retail space and an area where kids can have lunch, there will also be the sixth exhibit that will let children dig, build and sculpt with sand.
"All the exhibits and interactive parts of the museum are focused on allowing the child to become the scientist, to become the explorer and to do everything hands-on themselves," Spokes says.
"The intent of Before Party is to gather people from the community – supporters, donors and everyday citizens – and show how the old Park District office building is going to be converted into the museum. People will be taken through the building, be shown where each exhibit will be and will have a chance to look around all the different spaces of the building and observe its beauty," Spokes says.
Each exhibit space will have a food and beverage designed around it, as well.
The event is from 6-8 p.m. on April 4 at the Glen Oak Park Pavilion. Tickets are $40 if purchased before March 21 and $50 if bought after the 21. You can get tickets by calling 309-681-3500 or by visiting the Safari Gift Shop at Peoria Zoo.
It is hoped that the museum will not only help children learn but also teach them to play with others, how to play by themselves and how to play with their families, parent and guardian involvement being one of the keys to kids learning at the museum. Throughout the building there will be educational signs that will communicate ways for the parents to play with their children.
"We will have extra educational benefits like signage or things that we can change in and out depending on what lessons they're trying to teach the kids in the museum that the parent can read about and help their child learn about while they're playing, as well," Spokes said.
The museum has been working with an education consultant the whole time to make sure the facility is up to the appropriate early learning standards of the children that will be coming in with families or on field trips.
Spokes says children will be playing without realizing they are also learning. The kids will be taught lessons and subjects just as valuable as ones they would get sitting behind a desk, but they are just getting them through play, which is a crucial aspect of the facility.
Construction on the museum is set to start in late spring or early summer of this year and to finish a year later, but Spokes and others are looking to the community now to step-up and donate in order for the fundraising goal to be met in time. Spokes is unsure whether the goal will be reached by that time or not, but she says everyone is being optimistic.
To donate, you can visit peoriaplayhouse.org, you can visit the zoo, you can send a check to the Peoria Zoological Society or you can call 309-686-3365.
"The hands-on side to the museum is extremely important and beneficial, "Spokes says. It allows the children to learn and explore by themselves and to use more of their brain. If you take away that interactive aspect, Spokes believes you are taking away a creative aspect of learning.
 "If you're just handing them something and if they do x, y, and z with it, it's not doing the same as giving them the chance to interpret what they think that means and to use it as they think it's necessary," Spokes said. "So, you kind of have to let their imagination flow and that's what we're doing here."