Illinois River Floods Peoria County Communities
May 1, 2013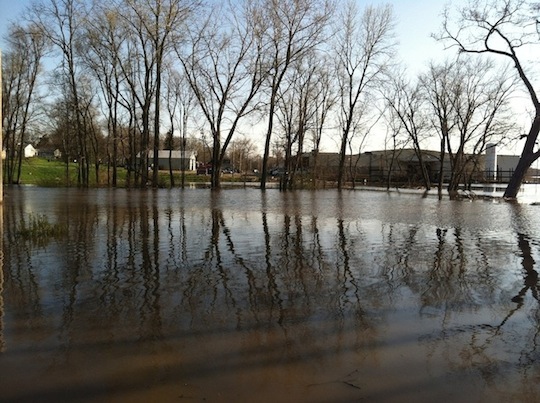 Illinois floodwaters in Chillicothe; photo by Chillicothe Public Works Superintendent Josh Cooper.
PEORIA — Residences and businesses located near the Illinois River fought historic flood levels last week.
The Illinois River crested at 29.35 feet in Peoria on April 23, easily breaking a 70-year-old record for flood levels in the city.
"This flood was about six inches higher than the previous highest recorded flood of 1943," said Peoria Interim Director of Public Works Jeremy Smith.
The Illinois River flood level also reached a historic high in Chillicothe last week.
"This is by far the highest level the city has seen," said Chillicothe Public Works Superintendent Josh Cooper.
Bartonville Mayor Rhonda Wolfe said the flood level in the village last week was the second highest on record.
"I've lived out here about 35-36 years and this is the worse I've ever seen it," said Wolfe. "I had a gentleman that lived out here for 80 years that showed me pictures from 1973 and it was worse then. By Hammer's Bar — there were boats up in there (in 1973)."
The Village of Bartonville provided sandbags and sand for residences in the floodplain. However, village employees were unable to fill and stack the sandbags for residents.
"We did give them sandbags and sand, but we just couldn't get out and help everybody," said Wolfe. "We didn't have the manpower to do it. When you're limited to so many employees and they're out trying to get the roads opened up for people and keep people safe, it's really kind of hard.
"It's just really sad that this had to happen. I'm sure a lot of people didn't have flood insurance."
In Chillicothe, Illinois Valley High School students filled more than 12,000 sandbags. Some of them helped place the sandbags at residences in the floodplain, along with other members of the Chillicothe community.
"The city and IVC High School teamed together and implemented a fairly aggressive sandbagging operation before the flood," said Cooper. "The public works department, with the help of Galena Road Gravel, hauled sand that Galena donated to the high school property.  Students and volunteers from the community filled sandbags to be delivered or picked up by residents in city limits and within Chillicothe Township. The city incurred some overtime costs for employees to deliver, as well as zip-ties to secure the bags. I believe at this point the flood has cost the city around $2,000."
Along the Peoria riverfront, city employees used heavy equipment to place buckets full of sand and cranes to place large cement barriers in strategic positions, in anticipation of the flood.
In Peoria, floodwaters poured into the basement of the Riverplex Recreation and Wellness Center, causing problems for its swimming pool and pumps. Floodwaters also forced several businesses, as well as parking decks and lots near the Peoria riverfront to close.
"The river probably won't be back in its banks until the week of May 6," said Smith. "We hope we can get all the parking lots open around May 10."
The flood forced several businesses in Bartonville, including McDonalds, Kentucky Fried Chicken and Hardee's, to close temporarily. 
"Luckily McDonalds, KFC and Hardee's didn't get water in their buildings, but they had to shut down because we couldn't get through the roads down there," said Wolfe.
In Chillicothe, floodwaters forced Bananas Beach Club and JT Fennell Company to close.
"Bananas Beach Club is still affected and JT Fennell had a little bit of water come into their business," said Cooper.
On April 19, Illinois Governor Pat Quinn visited Bartonville to assess the damage from the flood. During his visit, he declared 40 counties in the state, including Peoria County, as state disaster areas, qualifying those areas for a variety of state aid that will help them recover from the flood. He hopes to receive some federal disaster assistance for flood damage.
"We've never had a flood as pervasive as (this one) in the whole state of Illinois," said Quinn. "Maybe Noah had a flood like this, but we are really looking at one of the most challenging flood times we've ever had in the history of our state."