ART EVERYWHERE
April 2, 2014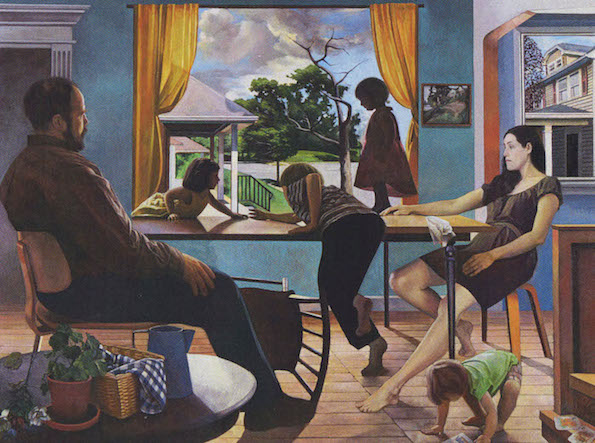 Artist Jeremy Long's "Personal Allegories" show at Rockford University will be among the featured showings at this month's Rockford Area Arts Council's 12th Annual Spring ArtScene.
ArtsScene uses galleries, non-traditional locations for show
For two days this month, 37 locations across the Rockford area will be transformed into galleries that will feature pieces created by local artists.
The Rockford Area Arts Council's 12th Annual Spring ArtScene will take place from 5 to 9 p.m. on April 11 and from 4 to 9 p.m. on April 12. Various galleries, studios and commercial establishments will play host to this free showcase of Rockford art that is available for purchase or simply for your viewing pleasure.
Jean Apgar is an artist who works in various media but will have six watercolor nature paintings for sale at 317 Studio and Gallery, 317 Market St., and Ameriprise Financial, 6870 Rote Road. She has participated in almost every ArtScene since its inception.
"I participate in ArtScene primarily for the opportunity to communicate with people who might not normally attend art exhibits, but enjoy the energy and variety that ArtScene brings to our community," Apgar said.
This energy that ArtScene brings to Rockford is something special and surprising, according to Salem Barker, an artist whose work will be on display and for sale at Anderson Japanese Gardens, 318 Spring Creek Road. Since July 2003, when a storm hit Rockford and felled countless trees, Barker has used naturally fallen trees to create wood sculptures and wall mounted wooden art.
Barker, who has participated in ArtScene since 2006, said he has traveled with his pieces to big cities across the country known for their appreciation of art, but his work still sells the best in Rockford. He said even though Rockford may not be known for its art appreciation, there is obviously something drawing people in to ArtScene.
One of the appealing aspects of ArtScene is that a patron doesn't even have to know about it to stumble upon it. Art takes over the walls and display areas of multiple commercial spaces that receive their own foot traffic, like Bennie's Cleaners, 126 N. First St., Just Goods Fair Trade Marketplace, 201 7th St., Katie's Cup Coffee Bar, 502 7th St., The Office Niteclub, 513 E. State St., and more.
Another draw is the event's all-inclusive attitude. Not only will visual art be for sale by professional local artists, but there will be an exhibit at BMO Bank Center of art created by Auburn H.S. students.
In addition to the visual arts, ArtScene also celebrates spoken word poetry, storytelling, performance art and music.
Ron E. Rawhoof, a local folk and blues musician who will be performing at Cambridge Dental, 418 7th St, and Shelter Care Ministries, 218 7th St., said this is his second time performing in conjunction with ArtScene.
"I think it's great," he said. "Art and music is a good fit. I think they're kind of made for each other. It's nice that people can look at the art and hear live music at the same time."
For more information on the locations and participating artists in Spring ArtScene, visit www.springartscene.com.
–Jessica Cabe