Big impact
March 12, 2014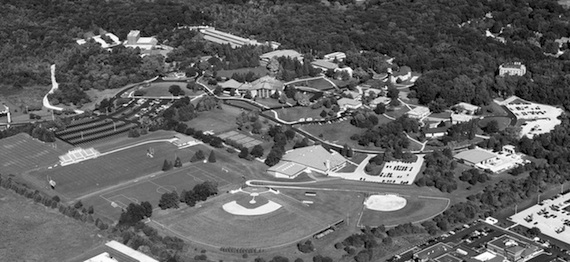 An overview of the Rockford University campus. (Rockford University photo)
Rockford University pumps $118 million into economy
Rockford University is an engine that pumps more than $118 million into the region's economy each year, according to a new report released by the University. 
The study was conducted by Economic Modeling Specialists Intl., (EMSI) for FY 2012-2013. Results of the study were announced at a press conference held at the University on March 7, 2014. 
For more than 167 years, Rockford graduates have made their mark in this region and around the world. 
With rich academic opportunities, practical experiences, and global perspectives, students at Rockford University are provided an education that prepares them for fulfilling lives, careers, and participation in a modern and changing global society. 
However, the University also serves a range of industries throughout the region and supports local businesses. 
The benefits created by RU extend as far as the state government, in the form of increased tax revenues and public sector savings. 
The study investigated the regional economic impacts created by RU on the local business community and the benefits that the University generates in return for the investments made by its key stakeholder groups—students, society, and taxpayers. 
Highlights from the study include: 
Income created: 
• $18.1 million as an effect of operations; 
• $960.3 thousand from student spending; and 
• $99 million as an effect of student productivity
• 15.3% annual rate return on investment for taxpayers
For every dollar spent:
• $70.90 gained in added state income and social savings for society
• $7.10 gained in added taxes and public sector savings for taxpayers
Increased earnings:
• $131.4 million in increased earnings over working lives for RU graduates
• 13.6% annual rate of return for students on their investment
"We have known for generations that an education from Rockford University has value on many levels for our students," Rockford University President Robert L. Head, Ph.D., said "We see proof daily on how they succeed in their educational goals, grow personally and excel professionally. This report allows us to quantify the full impact of the University on the region's economy, further proving that an education gained at RU holds tremendous value for students and citizens of the region."
Summary documents for each of the study's components are posted on rockford.edu and may be reviewed at: www.rockford.edu/?AboutHome.
The University also announced its final plans to move forward with $5.175 million in renovations to the Burpee and Seaver Centers with construction scheduled to begin in May 2014. 
Final budgets and project scope were approved by the Board of Trustees at the February 22 meeting. Plans include a complete renovation of the first floor of the Blanch Walker Burpee Center, revitalizing  the space as a central hub for student activity. 
The Seaver Physical Education Center will be equipped with new bleacher systems and creation of a new multi-purpose recreational space.
–News Bulletin news sources