Defining a winner
March 5, 2014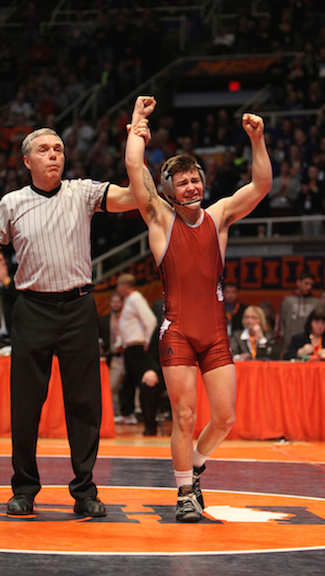 Undefeated Dakota wrestler Josh Alber went 177-0 and is a four-time state champ, but his most memorable move was to give a Regional medal he won to wrestler with epilepsy. [Photo courtesy Visual Image Photography (www.VIPIS.com)].
The medal Dakota wrestler Josh Alber doesn't have reveals his true character
When asked, Dakota High School senior wrester Josh Alber doesn't initially recall the location of his medal for winning his weight class at the IHSA Regional meet in 2013.
That's not particularly surprising, as Josh has accumulated more than his fair share of hardware during a career that saw him join the list of 14 individuals who have won four IHSA state championships during last month's state meet.
It's a strange question. 
Especially minutes after cementing his status as one of the greatest high school wrestlers in Illinois history, just one week away from likely becoming the first to ever complete a career undefeated. 
However, it is the medal Josh doesn't have that helps define his career.
The medal was in the building when Josh had his arm raised as a state champion for the fourth time, pinned to the shirt of Byron High School sophomore wrestler Austin Henry, who cheered Josh on from Section B25.
Austin won just one match this year, and two thus far in his career. He suffers from epilepsy, a seizure disorder that affects his motor skills and memory. The disorder makes wrestling difficult, but he loves the sport, just like his brother and dad.
Last season, Byron made the trip 35 miles north to Dakota High School to participate in the IHSA Regional tournament. As Austin waited for his dad to pull the car up after the tourney, he found himself alone with Josh and approached him to tell him he liked the plaque Dakota had won that afternoon. 
Josh brandished his Regional title medal for winning the 120-pound weight class earlier that day, asking Austin "what he thought of it."
Austin responded that it was "awesome", at which point Josh handed it to him and told him it was his to keep. 
"It (the medal) means a lot to me," said Austin. "It feels like I got first place, because that is the place I really wanted to be in and impress my dad."
Pete Alber, himself an IHSA state champ (98 pounds in 1981), has coached Josh throughout his unblemished high school career. Undefeated or winless, Coach Alber says his nephew epitomizes wrestling at its best. 
"He is the kind of kid you would want on your team whether he was winning or not," said Pete Alber. 
"He is quiet and modest and humble and hard-working. Above all, he is thankful. If you met him and didn't know who he was, you would have no idea that he is an incredibly successful wrestler. Frankly, I think he is the kind of kid this sport produces."
In late December, Josh produced a punctuation mark to his memorable career with a matchup against Glenbard North's Jered Cortez, a fellow three-time (and now four-time) state champ, who was ranked as the number one high school wrestler in the nation at 132 pounds at the time. The two went head-to-head in the finals of the famed Al Dvorak Holiday Tournament at  Harlem High School in Machesney Park. Despite the credentials of both wrestlers, Cortez was considered the heavy favorite among fans, as a class bias generally exists when schools or wrestlers from opposite enrollment spectrums meet (Dakota's enrollment is 275, Glenbard North's 2,486). None the less, Josh rallied from an early 2-0 hole for a 5-3 overtime victory in front of a capacity crowd. For many, the win validated his status among the all-time greats, eliminating the proverbial asterisk that his accolades 'came in Class 1A'.
Austin is one who didn't require any further validation when it comes to Josh.
"He is the greatest wrestler in history right now," says Austin. "I want to be like Josh."
A second or two after the initial question, a look of recognition flashes in Josh's eyes and he realizes I am talking about Austin when I asked about the medal. 
"Something in my heart told me it was the right thing to do. I could tell that it meant a lot to him and that it would mean more to him than it would for me. It was a treasure for him."
177-0 has nothing to do with that kind of perfection.
—By Matt Troha, llinois High School Association