'Faith in Action' pairs Housing Authority residents with local churches
Lynne Conner for Chronicle Media —

August 2, 2017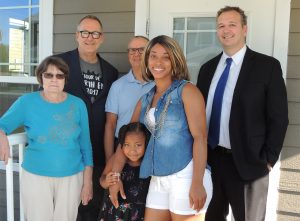 Residents of The Grove at Keith Creek, a new Rockford Housing Authority development are being welcomed to their new neighborhood by a program that pairs them with Rockford churches.
Family 2 Family project lead, Jim Andrews said that the program, loosely modeled after the Catholic Charities Refugee Resettlement program, is needed to acclimate incoming residents while reassuring existing families living in the neighborhood.
"Given the significant negative publicity and the initial organized neighborhood opposition, we felt that there was a probability that success of the Grove, an affordable housing project, could be significantly damaged or even doomed before given an opportunity to succeed," Andrews said. "So, to help calm fears and to give families moving into the neighborhood a leg up, we proposed this family mentoring program."
The Grove at Keith Creek is located on New Towne Drive at East State Street.
Andrews, along with retired Diocese of Rockford priest, Father David Beauvais and Pat Winn, diocesan director of Catholic Charities, is gathering support from Rockford churches for the Family 2 Family program.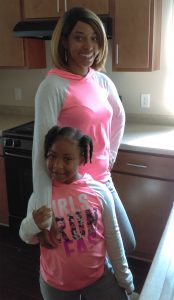 So far, Family 2 Family has nine churches and one faith community that have assembled teams to mentor families in the Grove development. Another 12 churches are in process assembling their own teams to help.
Andrews is a Sinsinawa Dominican Associate and has formed a Family 2 Family mentoring group with other volunteers. He explains how his group is helping to meet the needs of a Grove family.
"Mentoring a family is a concrete way to put faith in action," he said. "At first, there was some trepidation and anxiety in meeting with the families…but we prayed about it and established a relationship with the family. The needs started flowing from there.
"The mother and daughter that we're working with are excited to be a part of the Family 2 Family program, they're thankful and they are getting practical help from it as well," he added.
Andrews said that the needs of Grove families range from childcare to after-school care and homework help to finding furnishings for their new homes.
"We heard from our family that they were going to buy furniture for their new home. The family had gotten some prices but was having trouble affording the prices they were quoted," he said.
"I remembered hearing that Choice Furniture had worked with Catholic Charities to offer refugee families a discount on furniture," he said. "I talked with the manager, and he worked out a plan so that any family moving into the Grove will
be given wholesale pricing for any furniture that they want to buy. This gesture saved one family over $800 on furnishings for their home."
Other Family 2 Family groups have helped Grove residents with household budgeting and finding childcare.
"One woman, a retired school teacher, came to a meeting and she wants to start an after school homework club," Andres said. "Kids who live at the Grove would gather in the community room there and she would help them with any homework issues they have. It's been amazing to see the spirit and the faith and the love of Rockford come forward through this program.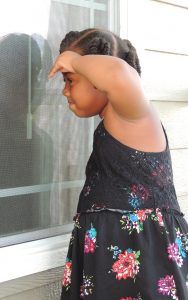 "I think the key to the Family 2 Family program is identifying and providing for the needs of Grove residents. It's not about what the faith partners or church groups think these families need," he added. "Once we discover those needs, we talk about the action steps to meet those needs. We dialogue with the family to see what part of the need the family can cover and what part of the need the faith partners can meet. Every step of the way, it's involving the families and letting them make the decisions."
The program also offers a way to help combat racism.
"We see this program as helping to take a huge step forward in race relations in Rockford. The one-on-one relationships that are built through this program will help everyone involved to see that all people all want safe neighborhoods and a thriving community," he said.
Leticia Bowman and her daughter Mariah will be moving into the Grove at Keith Creek in early August and are working with Jim Andrews's Family 2 Family team. Bowman says that she is beyond happy to be living in the Grove.
"I am extremely excited to be moving," she said. "I have lived in the Fairgrounds Housing Complex for four years and I am so excited to be the first person to be living in my townhome at the Grove. I can't wait to move in and take a bath in my own bathtub. The Grove is in a really good neighborhood and it is convenient to everything."
Working with her Family 2 Family group, Bowman says makes her feel empowered and capable.
"I love my group…we meet, talk, joke around and have fun. If I have a need, they'll help with that need, but more importantly, my Family 2 Family group helps me find options so I can take care of needs myself," she said.
Bowman also has a message for those living adjacent to The Grove who see the low income housing units as detrimental to their neighborhood.
"Don't judge us before you get to know us," she said. "I'm not the stereotypical (housing) projects person. I go to work every day, I come home; I take care of my daughter. I'm just like you."
Father Beauvais, a retired priest of the Catholic Diocese of Rockford, came up with the name Family 2 Family and sees the program as a way for the Rockford community to put their faith into action.
"We would like to invite our Catholic parishes and all churches to participate in helping these 43 families that are moving from the Fairgrounds Housing Complex to the Grove at Keith Creek," he said. "I think we need to tap into the resources of our parishioners and see how we can help these families secure a better quality of life.
"The goal of all of us Christians is to help our fellow man, particularly those who make be struggling," he added. "This is the Pope's merciful theme, to have mercy on all people, so, we can use our gifts and talents to help other people and lift them up. This is what Jesus would do, and this is what we are called to do."
–'Faith in Action' pairs Housing Authority residents with local churches–