HOCKEY FROM BOTH SIDES
April 9, 2014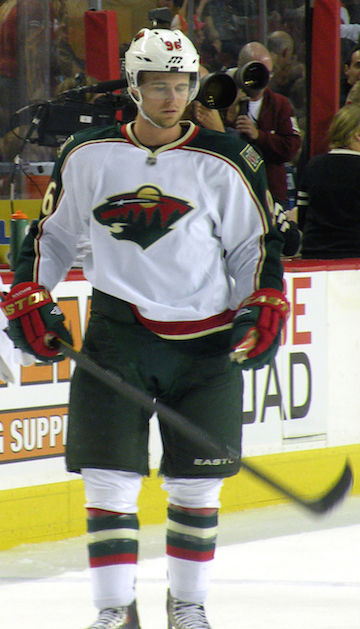 Rockford IceHogs center Pierre-Marc Bouchard knows the game from perspective as a player and executive. He's also president and co-owner of the Chicoutimi Saguenéens of the Quebec Major Junior Hockey League.  (Wikipedia photo)
IceHogs' Bouchard splits playing time, duties as a team owner
Rockford IceHogs center Pierre-Marc Bouchard has a unique perspective on the hockey business.
He's a veteran player with National Hockey League experience and is now helping the IceHogs make a run to the American Hockey League playoffs.
But he's also immersed in the business side of hockey as  President and Co-Owner of the Chicoutimi Saguenéens of the Quebec Major Junior Hockey League.
Many ex-players have made the transition to the front office after their careers finished, but few have done this while still playing.
The balancing act between player and executive requires Bouchard to make some sacrifices. Bouchard's future as a hockey player comes first, but that doesn't mean he is just a figurehead for Chicoutimi either.
"With my situation it is harder to be really involved with the hockey operations," said Bouchard. "But, I try to stay in touch with my business partner, the General Manager and the coaches once in awhile. Around the trade deadline I was involved. I don't have final say, but I was on the phone with the General Manager (Marc Fortier) to see what the plan was."
After spending his entire professional career with the Minnesota Wild organization, spanning 11 seasons, the Sherbrooke, Quebec native found himself as a first-time free agent at the age of 29 last off-season.
"It is a fun experience, a few teams call and express interest and you get to pick where you want to go," said Bouchard.  
He originally found a spot with the New York Islanders organization and split time between the Islanders and the Bridgeport Sound Tigers of the AHL.
On Feb. 6, Bouchard was acquired by the Chicago Blackhawks along with Peter Regin for a fourth round selection in the 2014 NHL Entry Draft. Bouchard immediately reported to Rockford.
Since donning the IceHogs sweater for the first time on Feb. 8—a three assist effort against the Iowa Wild—Bouchard has become an offensive staple for Rockford. He currently has two goals and 17 assists in 18 IceHogs games.
"I'm trying to fit as well as I can," said Bouchard of his transition to Rockford. "I'm trying to play my best hockey and play with some confidence. I want to help the team get into the playoffs and get some wins. Ever since I got here, it has been easy to adjust with such a great group of guys. Everyone has been helping me out to get adjusted."
The IceHogs Head Coach, Ted Dent, has certainly taken notice of Bouchard's efforts on and off the ice for Rockford.
"He's done well," said Coach Dent. "He's provided some offense
for us. Obviously he's played at the NHL level. He sees the ice well.
Has a lot of poise with the puck and the guys that are playing with him always get nice chances on that particular night. He is a calming influence for our room and our guys. He's played at the highest level; he can help the younger guys in that respect as well."
The veteran center has helped lead his new teammates with a quiet confidence and level-headed support for the younger skaters. Bouchard has been particularly helpful for some of the younger French-Canadian players, including young defenseman Mathieu Brisebois, also acquired via trade.
"Bouchard has been a really positive influence on me," Brisebois said of Bouchard. "It can get hard both on and off the ice at times. Sometimes you think you don't have the trust of the coach. He has always told us not to worry about it and just work hard."
Bouchard recognizes his value to the IceHogs as a veteran leader and playmaker, but the centerman still has one goal in mind above all else, getting back to the NHL.
"My main goal is to get back into the NHL," said Bouchard. "I'll try to finish this year strong and get some rest in the off-season. Then, come July, hopefully a few options will open up."
Bouchard's has a long association with the Chicoutimi Saguenéens.
"Well, first of all, that is the juniors team I played for," Bouchard said. "I have some fond memories there and some friends. My wife is from Chicoutimi, about four hours north of Montreal. Three other guys asked if I would like to jump in and I thought it would be a good idea. Experience wise, I know what it is to be a player, but I wanted to see what it would be like to be on the marketing side, as well as dealing with the coaches, General Manager and trades. It was something that I was looking forward to."
No matter how much you have seen both sides of the business of hockey, some things never become easy.
"Seeing both sides can help you understand where the management is coming from. But, at the same time, I don't think anything can prepare you for a trade or becoming a free agent."
—Rockford IceHogs