Memorial renewal
January 15, 2014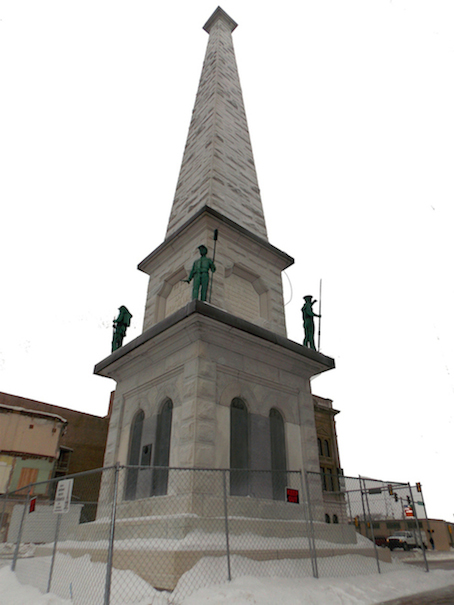 News Bulletin photo
Freeport's downtown monument to Civil War dead has a new lease on life, but more work—and money—still needed
Freeport's 145-year-old Civil War memorial is looking much better these days.
The 83-foot tall Soldier's Monument — currently surrounded by a chain link fence — has a new stone base consisting of 12 blocks weighing one-half ton apiece installed late last year.
The privately funded repairs were the first on the memorial — also known as the Civil War Monument — since 1999.
"Stephenson County (had) provided the funds needed to repair and maintain the monument (with) the last repair taking place in 1999," wrote Civil War Memorial fund chairman Jon Staven and vice chairman Don Craft in a letter. "We know that government, which has funded previous repairs, has no plans to provide support for the current repairs, as demonstrated by a 14-year abandonment."
The county said because of a declining economy it could no longer fund maintenance or repairs. So a not-for-profit corporation was established to oversee donations and fix the monument.
More work lies ahead on the project—budgeted at $160,000. Just under $40,000 had been raised through last last year.
The Freeport/Stephenson County Visitor's Center will help raise awareness with an expo highlighting the monument and repair efforts beginning this Friday and running through March 30.
The center, located at 4594 U.S. Highway 20, will be open daily from 8 a.m. to 6 p.m. and also feature Civil War memorabilia from the Stephenson County Historical Society.
The memorial is still missing one key and most expensive piece: a 13-foot terra cotta statue named "Victory" that once perched atop the monument. 
Created by Italian sculptor Giovanni Meli, the statue was destroyed in a 1960 lightning strike and remnants were reportedly buried in a landfill.
A replacement could cost as much as $60,000, according to estimates from memorial repair backers.
And a replacement for "Victory" might take a while. All funding is coming through donations and no loans will be used.
"The Civil War Monument Fund will conduct the repair fund in phases as funds become available," organizers wrote. "The fund will not borrow any money for this project."
The monument stands at the southwest corner of Galena Ave. and Stephenson St. just outside the Stephenson County Courthouse.
It was erected in 1869 and dedicated in 1871 to honor  the 92nd Illinois Volunteer Regiment and all other soldiers from Stephenson County who fought in the Civil War.
More than 3,000 names of Stephenson County's "heroic dead" are engraved on plaques on each side of the monument. 
Atop the memorial's base are statues of figures representing four military branches—infantry, cavalry, artillery and navy.
Stephenson County officials reportedly considered removing the monument in the 1970s but backed off after at outcry from local veterans.
It was placed on the National Register of Historic Places in 1998. 
Donations may be made directly to Citizens State Bank branches in Freeport, Lena or Stockton or via mail to the Civil War Monument Fund, 1070 N. Canyon Dr., Freeport, IL 61032.
For more information on the upcoming visitor's center exhibit call (815) 233-1357.
—Jack McCarthy