Regional rebound?
February 5, 2014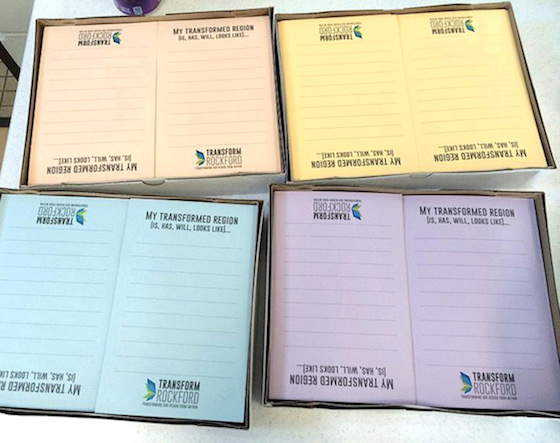 Boxes of notepads await participants in "Transform Rockford" visioning sessions. They're invited to list some of their ideas for an improved region.  News Bulletin photo.
'Transform Rockford' seeks ideas to spark a revival
In February 2013, Forbes Magazine ranked Rockford as the third most miserable city in the country, using factors like unemployment, taxes and violent crime to compile the list.
While there was backlash and defense from the community, Rockford's ranking forced its residents to grapple with the problems the city faces.
Now, an organization called Transform Rockford allows Rockfordians to come together in an effort to identify and solve some of the region's biggest problems. The group's executive director, Michael Shablaske, said change has to start with a unified vision of what Rockford should be.
"Facilitators help pull together from people their visions, their dreams of what a great region is like," he said. "What is it that we want to go and achieve?"
Shablaske is finding the answer through dozens of Community Visioning Sessions, two-hour open meetings held in various spots around the city meant to create a dialogue about what residents see as Rockford's biggest problems.
The most recent visioning session took place on Jan. 30 at the Rockford Art Museum. Shablaske said approximately 200 people attended the meeting, and each was asked to write down 10 goals or wishes they have for Rockford. He said some of the more common responses were higher quality education leading to employment, embracing diversity, developing a sense of community, improving the quality and quantity of jobs, public safety, arts and culture.
At this stage, Transform Rockford is just gathering input from the community. No action has been taken yet, but Shablaske said there's a process the organization is following that will bring greater success than hastiness.
Process is a huge focus for Transform Rockford. The group has used the skills
of Angel Contreras, chief human resources officer of the Rockford Public School District, to lay out an airtight plan for success.
"If you're following a good process, the process wins every time," Contreras said. He used an analogy of a recipe to explain the importance of a well thought-out plan, saying that if you follow a recipe exactly, you'll end up with a great meal. "Now we're just taking it on a larger, grander scale by transforming a region," he said.
Contreras used to work as the human resources director of GE Aviation. Shablaske used to be an assistant treasurer at Woodward Governor. The two men are using their background in the manufacturing industry to build a functional organization.
After pulling together a single, unifying vision from the Community Visioning Sessions, Shablaske said the group will create a strategy to achieve the community's goals.
"If we want world-class education, how do we do that?" Shablaske said. "Don't tell us that we can't have it. Let's figure out how we can get it."
The strategy stage will start in April, after two more months of visioning sessions, Shablaske said.
The next Community Visioning Session is at 6 p.m. on Thursday, Feb. 6, at West Middle School, 1900 N. Rockton Ave. 
Another is scheduled for 2 p.m. Sunday at the Loves Park Holiday Inn.
For a full list of Community Visioning Session dates, visit www.transformrockford.org/communityevents.
—Article by Jessica Cabe, a Rockford area native and Northern Illinois University graduate now studying at Syracuse Univesity.