Rockford region scores
January 22, 2014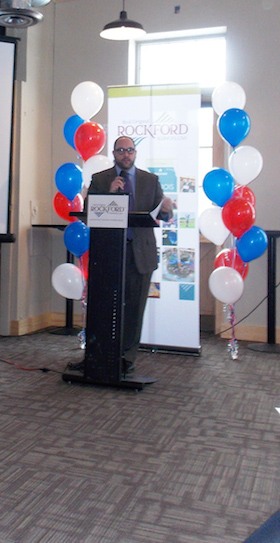 John Groh, Rockford Area Convention and Tourism Bureau president, announced the new events last week. (News Bulletin photo)
10 sports events announced last week could have projected $4 million economic impact
Will more sports lead to a boost in tourism here?
That's the formula the Rockford Area Convention and Visitors Bureau is betting on to draw more visitors and dollars to the region.
The latest development is a projected $4 million payoff through 10 different tournaments and sporting events announced last week that will take place in the region between 2014 and 2016.
"We've been working on an intentional strategy at the bureau not only to grow the economic impact of tourism—which is our mission — but to diversify the types of events and types of customers that are coming to our region," said John Groh RACVB president and CEO at an event at Prairie Street Brewhouse last Thursday. 
"(These) big wins really fall into that strategic category of diversifying our overall product mix and really trying to bring visitors throughout the entire year."
The $4 million figure represents projected new visitor spending from the events plus the creation of an estimated 50 full-time equivalent hospitality sector jobs.
"I can't remember a time in the bureau's history that we've ever had one announcement (with) that big of a combined economic win," Groh said.
Bowling is the most prominent with five scheduled events. But there's also major lacrosse competition coming back with a three-year commitment, national water skiing competition and three different World Series fast-pitch softball tournaments.
Don Carter Lanes and Cherry Bowl will host the tournaments over the next three years starting with the 2014 Bowling Proprietors Association of American International Family Bowling Tournament from July 19-21 and the BPAA's Women's All-Star Bowling Tournament and Bowling's Senior Women's U.S. Open from July 19-25. 
The tournaments are expected to fill a combined 1,225 hotel rooms with projected economic impact of $137,500.
The Midwest Women's Bowling Tournament is expected to bring 4,000 bowlers for seven weekends of competition  in May-June 2015. The Illinois Bowling Association State Bowling Tournament is slated to draw 3,200 bowlers for six weekends of play in February-April.
The fast-growing sport of lacrosse returns with the Rock River Cup at the Rockford Park District's Sportscore Two center in Loves Park for a three-year run. More than 90 teams are expected to participate in the tournaments, organized by NEXTsports after an initial tourney here in 2013.  
Rock River Cup participants are expected to fill more than 10,000 hotel rooms and spend $1.7 million over three years.
The local Ski Broncs water ski show team will host the 2015 National Show Ski Association Division I Show Ski nationals on the Rock River at Shorewood Park in Loves Park. 
The area  previously hosted the tourney in 2003, 2007, 2009 and last year.
Finally, the United States Specialty Softball Association will host three World Series fast-pitch tournaments at Sportscore One between July 25 and Aug. 2. More than 2,500 visitors are expected.
RACVB is a private, non-profit organization charged with promoting the region as an overnight visitor destination.
—Jack McCarthy