Second class no more
February 26, 2014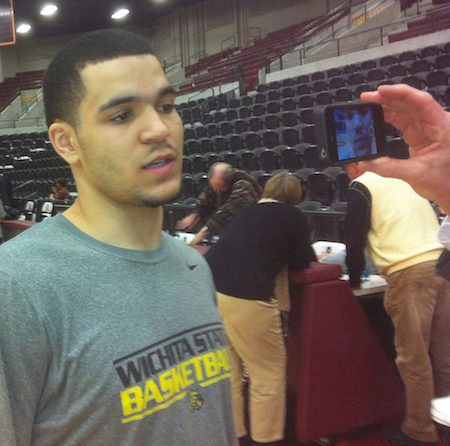 Fred VanVleet, who played in Chicago last week, has helped lead Wichita State to an unbeaten record. (News Bulletin photo)
Former Auburn star leads way for Wichita St.
As a basketball player coming from Rockford, Fred VanVleet wasn't always so highly-regarded especially by Chicago high school counterparts.
Last Wednesday the former Auburn High School star had the last laugh.
VanVleet turned in a perfect shooting night, scored a game-high 22 points and led his Wichita State team to an 88-74 triumph over Loyola University at Chicago's Gentile Arena.
That would be the No. 3 in the nation — and rising — Shockers.
"I've still got the chip on my shoulder that I had from high school being from Rockford," the Wichita State sophomore guard said. "I'm still always little brother to Chicago and people don't show you that much attention or respect. So you've got to fight for everything, earn everything.
"I wanted to play some inspired basketball. My teammates found me in some good spots,"
Wichita State, the nation's last unbeaten major college team, waited to hear early this week if they'd move higher in the rankings after last Wednesday's loss by previously-undefeated and top-ranked Syracuse.
If they do become No. 1 in this or future polls it would be a first for the Shockers, who made a strong run to the NCAA Final Four last year.
Against Loyola, VanVleet was 6-for-6 from the field, 10-for-10 on free throws and his 22 points matched season and career highs,
"You can't feel more confident than I do when he's got the basketball in his hands," said Shockers coach Gregg Marshall. "He's so tough, he's so smart, he's so heady."
VanVleet played in front of an estimated 50 family members, friends and former teammates who joined nearly 4,800 fans at the game.
"It's real satisfying and gratifying to have a lot of friends and family come out," he said. "For me it was a blessing in itself and to have them see Shocker basketball in person. They're always just watching me on TV so to see the real thing live is always special. It's always fun."
With the Loyola win the Shockers clinched no worse than a tie for the Missouri Valley regular season championship and the top seed in the upcoming league tournament. 
And they wrapped up that last piece of business on Saturday as VanVleet scored 15 points in an 83-54 victory over Drake that clinched the regular season crown.
The Shockers still have two more regular season games followed by the MVC tournament in St. Louis. 
Then comes the NCAA tournament, where they could be the first unbeaten team to enter with a perfect record since UNLV in 1990.
"That's cool to be the last (unbeaten)," VanVleet said. "But we're just trying to win every game. And if we keep winning we'll be the last unbeaten anyway."
—Jack McCarthy