Special deliveries
February 19, 2014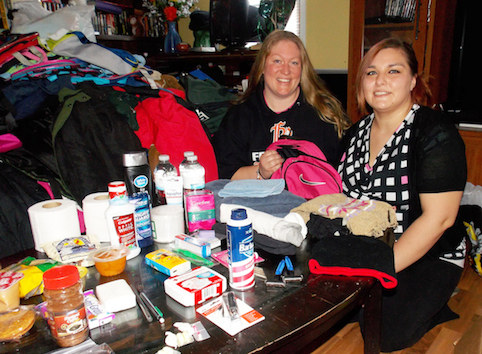 Jessica James (right) and her friend Missy Galor display some of the essentials they place into backpacks that they personally deliver to area homeless persons. (News Bulletin photo)
Backpack project offers essentials for area's homeless
There may be shelters to keep the homeless out of the subzero temperatures in this coldest winter since 1978-79 but Rockford resident Jessica James felt she could do something more to help.
So she started Project Help Rockford, a group that puts together care packages in backpacks to be delivered to the homeless.
"Seeing people outside, and it's so cold right now, and not really knowing what you can do — I can't just take those people into my house — made me start this," James said. "I just don't understand if you're well off why you wouldn't help somebody who's not."
The project started about a month and a half ago when James saw a video that her friend, Freeport resident Missy Galor, posted on Facebook. It showed a couple putting supplies into a backpack that they kept in their trunk until they drove past a homeless person to give it to.
The backpacks have supplies that can help someone for a long of period of time, like soap, a tooth brush and tooth paste, food, towels, razors, tissues, medicine, cough drops, deodorant, shampoo, lotion and Chap-
Stick.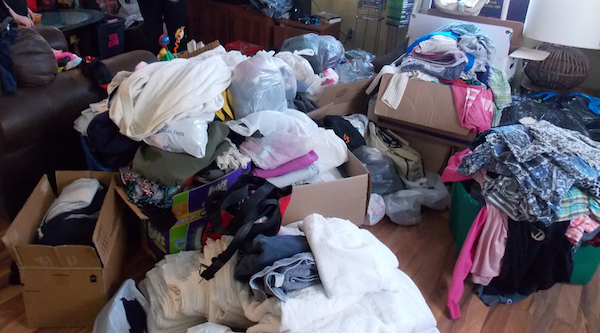 Some donors have offered clothing to Project Help Rockford, but founders prefer to receive backpacks, personal hygiene products and non-perishable food items. (News Bulletin photo)
When James saw the video, she decided to make a few backpacks herself. But Galor fell in love with the idea of delivering the backpacks to those in need, so the two started working together. They have given out about 25 backpacks so far.
James said one of the appealing things about the project is the interaction it involves.
"We decided that everything that we do, we wanted it to be personal," she said. "It just feels better. You can actually see their expressions."
James said her most recent delivery was to a man with a sign outside of Walmart. Her friends texted her to tell her where he was, and she immediately drove to the parking lot to find him.
"I threw together a backpack really quick and brought it to him," she said. "I could tell he was really happy that he got all that stuff. He kept saying that he's needed a new backpack for a while."
Although James and Galor hope to continue handing out backpacks, they said they can't do it without help.
"We're trying to start another round of backpacks up," James said. "People just kind of started donating clothes, and we can't really put clothes in the backpacks, so we don't really know what to do with them. We can't really take on the task of buying the stuff ourselves."
In the future, James hopes to take the project to different causes in the Rockford area, like helping out veteran centers or animal shelters.
"I think by switching up what we're doing, we could get more people in it," she said.
For more information or to get involved go to https://www.facebook.com/pages/Project-Help-Rockford/813348998691862. In addition, the Rockford Rage women's roller hockey team will also donate proceeds from this Saturday's Roller Derby Doubleheader at Sportscore II in Loves Park to Project Help Rockford. Doors open at 5:30 p.m. and admission is $10 in advance and $15 at the door.  More information is at http://rockfordragerollerderby.blogspot.com/
—Article by Jessica Cabe