Winnebago County news briefs
Chronicle Media —

June 27, 2015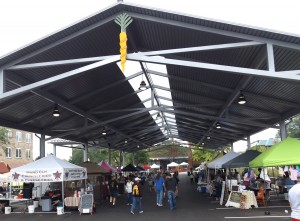 OSF breaks ground on $85 million pavilion
OSF HealthCare and OSF Saint Anthony Medical Center broke ground last week on a $85 million project to construct a four-story, 144,247 square-foot bed pavilion.
The pavilion will be attached to the existing hospital building and house 78 private rooms for medical and surgical beds. In the existing hospital, semi-private rooms will be converted to private rooms, allowing for a total of 190 private rooms when the project is completed. There will be no change in the number of licensed beds.
Additionally, some ambulatory services will be offered on the first floor of the new pavilion, including PromptCare and the relocation of Women's Services comprised of mammography, ultrasound and bone densitometry. There will also be space for a retail pharmacy.
Hospital officials estimate up to 700 constructions jobs will be created for the project, which is expected to be completed by early 2018.
Rockford unemployment dropped to 5.9% in May
Rockford unemployment dropped to 5.9 percent in May according to the latest figures from the Illinois Department of Employment security and the U.S. Department of Labor.
The number is down form a 7.8 percent unemployment figure in May 2014.
May was the 15th straight month that unemployment rates fell in every metro area in the state compared to a year ago, according to preliminary data released last week by the two agencies.
Rates also fell in all of Illinois's 102 counties. The not seasonally adjusted data compares May 2015 with May 2014.
"Three metro areas in the northeast region of the state have reached prerecession employment levels, eleven metro areas continue to fall short," IDES Director Jeff Mays said. "The need for a full statewide recovery remains."
The not seasonally adjusted Illinois rate was 5.6 percent in May 2015 and stood at 12.2 percent at its peak in this economic cycle in January 2010. Nationally, the not seasonally adjusted unemployment rate was 5.3 percent in May and 10.6 percent in January 2010 at its peak.
The unemployment rate identifies those who are out of work and looking for work, and is not tied to collecting unemployment insurance benefits.
Body identified as missing 24-year-old
The Winnebago County coroner's has confirmed that a body recovered from the Rock River last week was that of a missing 24-year-old man.
According to reports, coroner Sue Fiduccia confirmed the body was discovered under a dock on the river in Loves Park last Tuesday was Antonio Little, a YMCA of Rock River Valley staffer who last reported seen leaving a party on Memorial Day weekend.
"The YMCA of Rock River Valley family is deeply saddened to learn of Antonio Little's drowning," the agency stated on its Facebook page. "Antonio was a highly valued member of our team and will be greatly missed. We pray for his friends and family to find the strength they need to get through this difficult time."
Preliminary cause of death was drowning, according to the reports.
The YMCA said it plans a candlelight vigil in July.
Refugee students from East plan to create mural
Refugee students of East High School are collaborating with local artist Corey Hagberg to create a mural in the Midtown District in Rockford.
Rob Bauer, owner of Cad Cam Service, has offered his building to be painted. The mural will be located on the southwest corner of Sixth Street and First Avenue—a neighborhood where the majority of refugees settle when they arrive to Rockford.
Students participating in the project hail from Burma, Tanzania, Rwanda and Iraq.
Morgan Smith of Rock Valley College's Refugee and Immigrant Services spearheaded the project as part of the summer programming for refugee students.
"I really wanted something fun for the kids to do and to also raise awareness of the refugee community in Rockford," Smith said. "This is a visual representation of the diversity that Rockford possesses. The kids should take pride in their culture."
The project was expected to begin last Sunday and take at least two weeks to complete.
'Doors of Opportunity' shows desires for change
Middle-school students from Ellis Heights and Midtown District neighborhoods expressed their aspirations for a strong neighborhood through art projects during a two-day Youth Action Summit as part of United Way of Rock River Valley's annual Day of Action activities on June 19.
Students were encouraged to paint, draw, and write the things they would like to change in their community and then to decorate a door with their illustrations. The final art project, entitled "Doors of Opportunity", is currently on display at the Rockford Art Museum through Aug. 24.
"These doors represent how young people view the future of their neighborhood," says Ashley Burks, United Way Community Impact Manager. "What we see is that some kids want a community free of violence and alcohol. Others see a community free of drugs. Really, what we're seeing is a lot of children want a community that is united and for people to get along with one another."