Annette Sherman Chronicles Life
June 19, 2013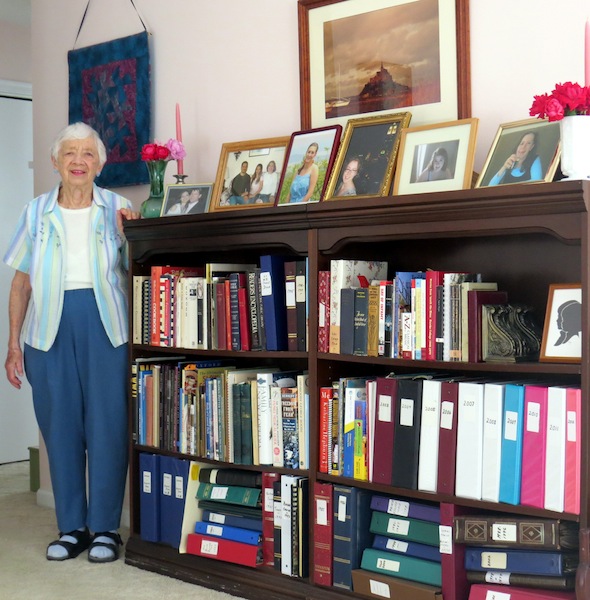 Annette Sherman is shown with the bookcase that chronicles events in her life.  The photo over the bookcase is of Mont Saint-Michel in France.  It was taken by her son.   – Photo by Jerry McDowell.
EUREKA –The bookcase in Annette Sherman's tidy cottage at Maple Lawn is a fascinating accounting of her life since leaving Eureka to join the U.S. Army after her brother's plane was shot down in World War II.
Carefully catalogued in the lower left corner are four large three-ring binders containing all the letters she sent and received from her parents while she worked in the Army's cryptology department in Washington, D.C.
She was assigned to deciphering Japanese code, and having been sworn to secrecy, she still refuses to discuss the content of the messages to this day.  Sherman wrote her parents at least twice a week, creating a first-person account of the mood in the nation's capital during the war.  The letters piqued the interest of Eureka College's History Department, which a few years ago had them digitized for study.
"I guess I'm an historian at heart," Sherman said. "Maybe it's part of being a librarian but I'm always organizing things."
All of her several trips to Europe are organized in binders, as well as any events from the years 2000-2012.  She's still working on 2013.  
Born on Oct. 23, 1919, she was one of six children of Wilmer and Grace Dyar. They resided on Darst Street in "a little gray house at the bottom of James Street," next to Foster Benjamin, the oldest Civil War veteran, her dad's uncle, Sherman said.
Wilmer Dyar was assistant superintendent of schools and her uncle H.L. Dyar was superintendent of schools. She remembers her father reading to them every night before bedtime.  Sherman also remembers at age 3 her father bringing her home from Eureka Christian Church and she exclaimed to her mother that she hadn't cried or fussed in church for the first time.
Sherman said she learned to write on a chalk board that was hanging in their home. Her memories include the difficulty of her parents raising six children during the Depression. She recalled the family eating at a restaurant in Peoria and a woman counting the number of children in a disapproving manner.
Her brother Gene volunteered for the service before the war started and was a captain by the time his plane was shot down. She remembers her mother getting the letter that her brother was missing in action and that the family held out hope for a long time that he might be alive. 
Sherman graduated from Eureka College and U of I in Library Science.  After the war, she was a librarian in NYC for 20 years, and moved to Miami, where she was a librarian and got divorced prior to moving back to Eureka in 2002.
She remembers tall elm trees that formed a tunnel on Main Street that apparently were blown down in a storm. She remembers that downtown used to be packed before all the college kids had cars and is saddened that that has changed.
Sherman has one son, John Elliott, who recently completed his second year as vice consul with the US. Consulate in Rio De Janeiro, Brazil, and two daughters, Catherine of Evanston and Susan of Eureka.
Among the things she does to keep active is walking about a half mile every other day. She used to walk two miles.
"I'll give you some advice; don't get this old," she said. "It's not the golden years."
Editor's note: The News Bulletin plans an occasional series of profiles on interesting people in our area. If you would like to suggest a candidate, email your comments to editor@legalrecord.net.
Annette Sherman Personal Q&A
Family: One son, two daughters, three granddaughters, one grandson
Pet Peeves: Clutter; when she drove, people not obeying traffic signals or tailgating; "I'm of fairly mild temperament."
Interests, hobbies: anything historical; takes lots of photographs (film camera) and organizes them into albums; scrapbooking.