BREAD MONK COMES TO EUREKA
March 26, 2014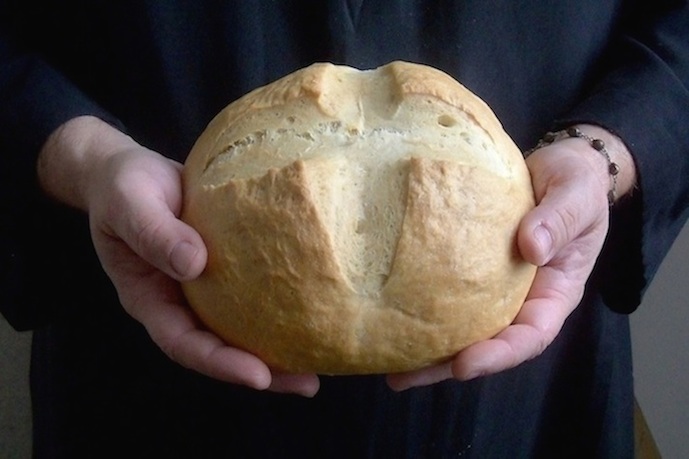 EUREKA – Among the popular cooking idols of today, Fr. Dominic Garramone has a niche all his own. Not only is he a Catholic monk, but he has also been star of his own popular cooking show and has written several cooking-related books. We are fortunate that he will be at Eureka on April 5 to tell his story and to offer insights into the baking of great breads….and other goodies.  Photo by breadmonk.com.
Father Dominic to Present 'Herb Breads with a Meaning'
EUREKA – Television host and author the Rev. Dominic Garramone will present "Herb Breads with a Meaning" at 10 AM, April 5 at the Eureka Christian Church (Disciples of Christ), 302 S. Main St., Eureka.
Cost is $12. Proceeds will support projects of the Eureka College Women's Board.
Tickets will be available at the door or in advance by contacting Women's Board member Joan Herron at 309-231-0910 or herron12@mediacombb.net.
Garramone hosted the PBS cooking show "Breaking Bread with Father Dominic" and has written several cookbooks, including "The Breadhead Bible: Father Dominic's Favorite Recipes," set for release in April.  His first children's book, "Brother Jerome and the Angels in the Bakery," received a 2011 Christopher Award and the 2011 Catholic Press Association's first-place award for children's books.
Garramone is a monk at Saint Bede Abbey, Peru. He heads the religion department at Saint Bede Academy, where he teaches church history and Christian doctrine.