Eureka's Kiwanis Ambassador
June 4, 2014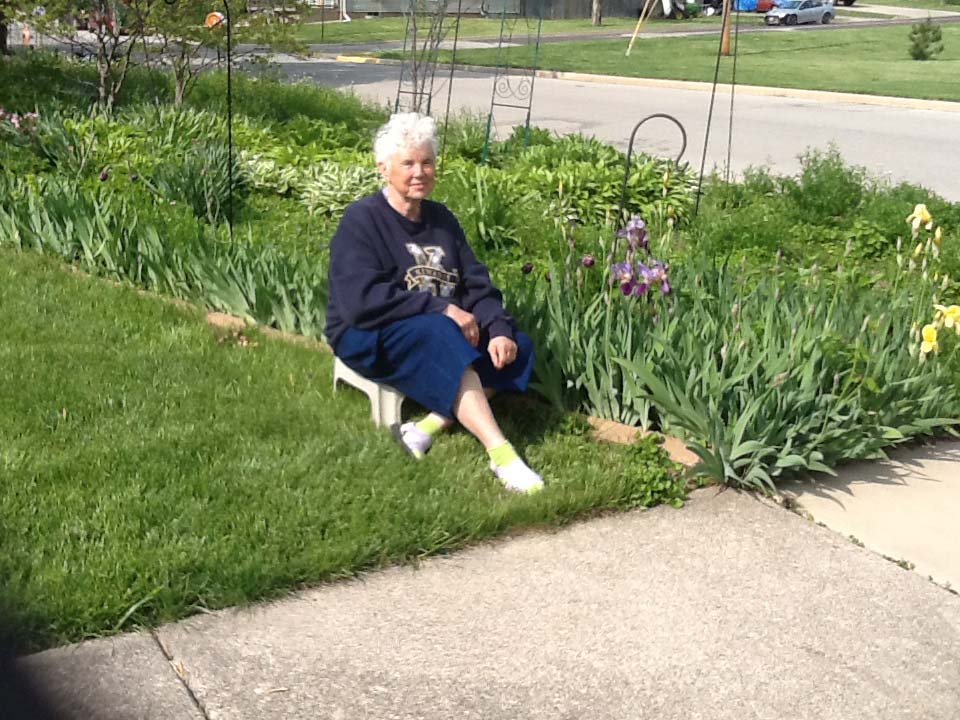 EUREKA –  Nancy Aldridge pauses for a moment from all her volunteer work. Maintaining an extensive garden is relaxation for this exceptional woman. (See related article below.)
Nancy Aldridge: The Ultimate Volunteer
By Ben Tapp
EUREKA – Nancy Aldridge is probably one of the most dedicated people you'll ever meet.  A resident of Eureka for over 12 years, this retired teacher is a strong supporter of several organizations and especially Kiwanis. Mention Kiwanis to her and you will learn more about it than you ever dreamed you wanted to know. A very active member of Kiwanis for over 25 years, she totally agrees with its aim of improving communities, especially through helping children.
To make money to help fund the many beneficial Kiwanis programs, Ms Aldridge puts on a haunted house at her residence on Pearson Street in Eureka each year. Halloween was her mother's favorite holiday, and she and her mother set up a Spook House in their country home for over 25 years. Ms Aldridge's whole house goes from being a home to being a dark and scary labyrinth. Youth pay $2 to go through the Spook House and the money she collects is sent to UNICEF whose mission is to do whatever it takes to save and protect the world's most vulnerable children.
During the interview, Ms Aldridge said that she feels that her greatest accomplishment was the 15 years she was part of the State of Illinois Job Service Outreach Office in Pontiac. Through this job, she helped nearly a thousand unemployed people a year find work.
It isn't enough for Ms Aldridge to spend the whole month of October on the Spook House, she also holds two massive garage sales every year, one in the spring and one in the fall. When asked where she gets all the things she puts out for sale, she said that she gets it all from donations or from her own home.
To manage her events, she has a very well-organized storage system. Any left-over sale items are either saved for her next sale or donated to stores like Goodwill or the Et Cetera Shop. All the sale items and the Halloween decorations are stored in well-labeled plastic tubs in her garage.
Even with all of her volunteering and raising money for charity, she still finds the time to be an avid gardener. The yard surrounding her house is a show case. She especially enjoys growing lavender because of its fragrance and beauty. She finds ways to use it in her arts and crafts, and she even has a recipe for lavender cookies.
It is impossible to deny that this hard-working mother, volunteer and former teacher has done much to help her family, improve her community and aid disadvantaged children everywhere. She's a friendly sort, and if you see her in her yard, she'd be happy to chat for awhile and maybe even let you smell the lavender.