Shirley Adams: Metamora's 'Quiet Giant'
July 31, 2013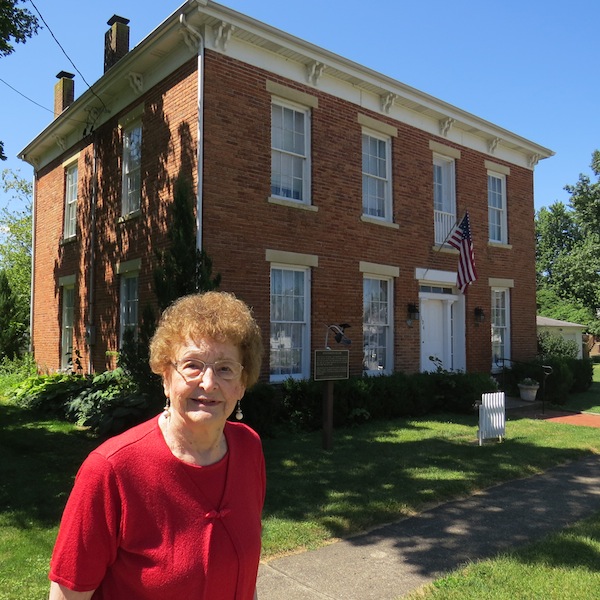 Shirley Adams in front of the Stevenson House.  Photo by Jerry McDowell.
METAMORA – Around four decades ago, the last member of an old Metamora family died and the estate was to be sold. Neighbor Shirley Adams, who had an interest in genealogy and history, couldn't pass up a box of items in the sale that contained lots of Lincoln memorabilia. 
It seems that one lady in the family formerly worked at the Woodford County Courthouse and had accumulated the stuff. 
That's how collecting began for the 43-year employee of the Metamora Post Office.
Describing herself as "just ordinary," Mrs. Adams has:
• With Murllene Kramer formed the Metamora Association for Historic Preservation in 1987.
• With other genealogy buffs walked the 94 cemeteries in Woodford County in the 1970s, writing down everything on every stone, passing on the records to the Woodford County Historical Society. 
• Organizes staffing at the Lee Log Cabin in Black Partridge Park, setting up stations to show skills of pioneer people for school tours in May.
•  With Mrs. Kramer and the Association Board coordinated the purchase of the Adlai Stevenson I home, where he lived while practicing law at the Metamora courthouse for 10 years.
• For nearly 30 years, Mrs. Adams has served as a Eucharistic minister to St. Mary's Church, bringing communion to people who live at Snyder Village and several homebound people.
• With Mrs. Kramer wrote the History of Metamora, along with an addendum to the book.
"When I first started working at the courthouse in 2004, Shirley was the very first person to welcome me to Metamora, and she offered to help me out," said Jean Myers, Site Manager & Curator, Metamora Courthouse State Historic Site.  
"Over the years, she has been invaluable to me and the courthouse in providing needed information and by supporting our programs.  Fully a third of the artifacts loaned to the courthouse earlier this year for the 'Lincoln's Image' show came from Shirley's collection."
Mrs. Adams was born in a farmhouse 7 miles northwest of Metamora and attended a one-room open-walled school in District 36.  She attended Metamora High School, graduating in 1946. A month before graduating, she began working part time at the Post Office, eventually working there 43 years. She married Joseph Adams in 1949, and he died in 1978. 
 Mrs. Adams said, "I thought that to fill that void I should do something that I think would be good so I asked the priest at the time if he would object if I took communion to some of the people who are sick and unable to come to church, and he said no that would be wonderful."
Adlai Stevenson I served as the 23rd Vice President of the United States (1893–1897). Previously, he served as a Congressman from Illinois in the late 1870s and early 1880s. (Adlai II was governor of Illinois and Adlai III was a U.S. Senator.)
Coming to Metamora at age 23, he lived in Metamora for only two years after marrying Letitia Green Stevenson.
"Mrs. Stevenson didn't seem to like Metamora," Mrs. Adams said. "She thought the people weren't too friendly. At that time we didn't even have a railroad yet and we had muddy streets and boardwalks. She was from Kentucky, a cultured daughter of a minister and she was used to a little more high-classed living." 
The couple moved to Bloomington where he practiced law and got into politics. They never owned the home in Metamora.  It was built by George Lemon, a doctor, Mrs. Adams said. 
The Metamora Association purchased the home for $103,000 and it has been furnished with advertising pieces and furniture and other items from various sources in Metamora and elsewhere. The seven members of the Metamora Association for Historic Preservation are: Laure Adams, president, Mary Curry, Jack Weddle, Lee Summer, Kenneth Willman, David Pohlman and Mrs. Adams. 
While the website says it is open for tours on Sunday, they changed it to 10 a.m. to 1 p.m. Saturday coordinating with the farmer's market.  They also put a sign on Rt. 116 saying it is open to attract visitors. 
The bronze statue of Lincoln and Melissa Goings sits quietly in the shade of the Metamora square across from the courthouse. It symbolizes a court case where Lincoln represented Goings, who was charged with murder in fending off her drunken husband while he attempted to strangle her in 1857.
Part of the legend (described in detail by Jean Myers on the courthouse website) was that Goings disappeared during a recess, and when the judge asked Lincoln of her whereabouts, he replied, "Your honor, I did not chase her off.  She simply asked me where she could get a good drink of water, and I said…Tennessee has mighty fine drinkin' water." 
Unable to find a picture of Goings, Mrs. Adams was asked to pose for sculptor John McClarey.  "I don't think it even looks like me," she said.  McClarey inscribed the name "Shirley" on the small purse in Goings hand. 
"You should hear my kids hoot" when they see that, Mrs. Adams said. 
Jean Myers wrote of Mrs. Adams, "We recently installed a bronze plaque in front of the Lincoln and Goings statues in the Metamora Square.  Prominent in the center of the plaque it reads: SHIRLEY A. ADAMS, HISTORIAN AND INSPIRATION, which is exactly what she has been."
She said: "Jean Myers has to be given credit for getting that statue going."
I said: "He wants to give you credit."
"Jean did most of that, I can't take credit."
Meyers wrote: "Shirley is a quiet, soft-spoken giant of this community."
"Oh…(gasp) you're blowing it up too big."
"I'm not blowing anything up. I'm reading what Jean Myers wrote."
"I guess what I can say is, I put the bug in his ear and he went to work and raised all that money." 
"So you're giving him credit?"
"I am. That's the gospel truth."
Editor's note: The News Bulletin plans an occasional series of profiles on interesting people in our area. If you would like to suggest a candidate, email editor@legalrecord.net.