Residents, businesses earn Governor's Volunteer Service Awards
Chronicle Media —

April 20, 2018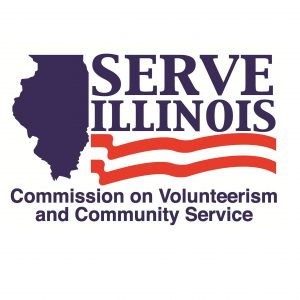 The Serve Illinois Commission on Volunteerism and Community Service has presented 25 residents and five businesses with the Governor's Volunteer Service Award.
The award recognizes volunteers and volunteer programs that have made a difference in Illinois and highlights the importance of volunteerism and community service.
A ceremony took place April 18 as part of the National Volunteer Week festivities.
"Illinois is a state that was truly born, built, and grown with the spirit of volunteerism and community service," said Gov. Bruce Rauner.  "The individuals and businesses we're recognizing have impacted millions of lives. We're honored to highlight their service."
"These individuals and businesses embody the true spirit of volunteering and are making a difference in their communities through a variety of activities such as helping the homeless, youth education, and assisting veterans," said Commission Executive Director Scott McFarland.  "We are proud to have them serving in Illinois."
The Commission received more than 130 nominations in six categories (adult, AmeriCorps, business, senior, Senior Corps, and youth) from the Commission's five service regions across the state (East Central, Northeast, Northwest, Southern, and West Central).  Commissioners reviewed the applications and selected 30 award winners.
The following are the 2018 Governor's Volunteer Service Award recipients.  More information about the recipients is on the Serve Illinois website at www.Serve.Illinois.gov.
East Central Award Recipients
Adult: Priyanka Bahel – Naperville
For service to: Carle Foundation Hospital
AmeriCorps: Brian Frapolly – McHenry
For service to: Illinois Justice Corps/McLean County Law and Justice Center
Business: Land of Lincoln Credit Union – Decatur
For service to: Webster Cantrell Hall and other organizations
Senior: Alfred Hampton – Springfield
For service to: Central Illinois Foodbank
Senior Corps: Alice Bray – Decatur
For service to: Dove's Children's Clothing Room
Youth: Gage Ford – Springfield
For service to: Big Brothers Big Sisters of the Illinois Capital Region
Northeast Award Recipients
Adult: Anna Stargardt – Chicago
For service to: Advocate Lutheran General Hospital
AmeriCorps: Brandi France – Grayslake
For service to: Waukegan to College
Business: Northwestern Medicine-Team NM – Winfield
For service to: DuPage County Health Department Initiatives-Impact DuPage and FORWARD DuPage
Senior:  Ann McAveeney – Lake Forest
For service to: Fill A Heart 4 Kids
Senior Corps: Arthur "Nick" Cordell- Yorkville
For service to: Senior Services Associates
Youth: Nolan Rahm – Evergreen Park
For service to: Tinley Park Paws
Northwest Award Recipients
Adult: Melissa Ryan Bergstrom – Sterling
For service to: Team Jess
AmeriCorps: Christopher Black – East Moline
For service to: WQPT-Quad Cities PBS
Business:  Culver's – Dixon
For service to: Sauk Valley Community College
Senior: Juanita Martin – Rockford
For service to: Northwest Community Center
Senior Corps: Char Polis – Rockford
For service to: Retired and Senior Volunteer Program Winnebago County
Youth: Sarina Goldie – Freeport
For service to: Girl Scouts of Northern Illinois
Southern Award Recipients
Adult: Marleen Shepherd – Carbondale
For service to: Sparrow Coalition
AmeriCorps: Zach Brookman – Opdyke
For service to: Opdyke-Belle Rive CCSD #5
Business: Luxury Looks Barber & Beauty Salon – Fairview Heights
For service to: Men of East St. Louis
Senior: Alice McGowen – Jerseyville
For service to: Humanity Road, Inc.
Senior Corps: Ron Simpson- Carterville
For service to: Gum Drops NFP
Youth: Kaitlyn Barnett – Troy
For service to: Girl Scouts of Southern Illinois
West Central Award Recipients
Adult: Jenny Lee – Mackinaw
For service to: TCRC and RSVP of Peoria and Tazewell Counties
AmeriCorps: Justin Krohn – Macomb
For service to: Western Illinois Regional Council
Business: Kassing Lumber Company – Mt. Sterling
For service to: Adams, Brown, and Pike Counties RSVP
Senior: William Durall – Pittsfield
For service to: JWCC Southeast Education Center
Senior Corps: Joseph Urbanc – Peoria
For service to: RSVP of Peoria and Tazewell Counties
Youth: Beckham Oldenettel – Jacksonville
For service to: New Directions Warming and Cooling Shelter and other organizations
The Serve Illinois Commission is a 40-member (25 voting and 15 non-voting), bipartisan board appointed by the Governor and administered by the Illinois Department of Public Health (IDPH). Its mission is to improve Illinois communities by enhancing volunteerism and instilling an ethic of service throughout the State.