Court fast-tracks state's appeal in assault weapons ban case
By Peter Hancock 
Capitol News Illinois —

March 9, 2023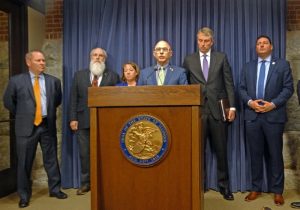 SPRINGFIELD – The Illinois Supreme Court agreed this week to fast-track the state's appeal of a Macon County judge's ruling against parts of a recently passed state ban on assault weapons and high-capacity magazines.
Lawmakers passed the ban during a lame duck session in January and Gov. J.B. Pritzker signed it into law almost immediately. The law came in response to numerous mass shootings in the United States, including at an Independence Day parade in Highland Park last summer in which the shooter used an assault-style weapon, killing seven people and injuring dozens of others.
The new law bans the sale and manufacture of a long list of firearms defined as "assault weapons," assault weapon attachments, .50-caliber rifles and .50-caliber cartridges, as well as large-capacity magazines.
The law allows people who already own such items to keep them, but it restricts their ability to sell or transfer them to someone else. And it requires current owners of such weapons to register them with the Illinois State Police by Jan. 1, 2024.
The law also exempts certain people from the ban, including current and retired law enforcement officers; wardens, superintendents and keepers of state and federal prisons; members of the armed services or reserve forces while they are performing official duties or traveling to or from their places of duty; and companies that employ armed security guards at federally supervised nuclear sites.
Passage of the law prompted immediate legal challenges in both state and federal courts by gun rights advocates who said it violated both the Illinois and U.S. constitutions.
One of those suits was filed by a group of plaintiffs led by Republican state Rep. Dan Caulkins of Decatur.
On March 3, Judge Rodney S. Forbes ruled that the exceptions to the assault weapons ban violate the equal protection clause in the Illinois Constitution as well as the "special legislation" clause that prohibits the General Assembly from passing "a special or local law when a general law can be made applicable."
"We look forward to vigorously defending this final judgment by Judge Forbes," Caulkins said at a news conference Wednesday, March 8. "We believe that we have the facts on our side."
That decision, the judge wrote, was based on a 5th District Court of Appeals ruling in another case in which an Effingham County judge had granted a temporary restraining order to block enforcement of the ban. That order, however, applied only to the roughly 800 plaintiffs who were named in the case. That case, Accuracy Firearms LLC v. Pritzker, also is on appeal before the Supreme Court.
Although the Accuracy Firearms case went through an appellate court before reaching the Supreme Court, Attorney General Kwame Raoul appealed the Caulkins case directly to the high court.
In both cases, Raoul filed motions for an expedited hearing schedule. But on Tuesday, March 7 the court chose to take only one, accepting the Caulkins case and denying the motion in the Accuracy Firearms case.
According to the court's order, oral arguments in the Caulkins case are scheduled to be heard sometime in May.