'Equitable restrooms' bill advances at state level
By Peter Hancock 
Capitol News Illinois —

February 22, 2023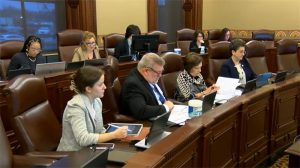 SPRINGFIELD – A bill that would allow restaurants, hotels and other public places to designate "all-gender multiple-occupancy" restrooms passed out of a House committee Wednesday, sending it to the full House for consideration.
House Bill 1286, sponsored by Rep. Katie Stuart, D-Edwardsville, is similar to one that passed through the House in 2021 but died in the Senate.
"So it just creates the opportunity for places, businesses, universities, you name it, to create a multi-stall gender-neutral restroom, if they so choose," Stuart said during the hearing. "And it lays out requirements for what is in that facility."
In 2019, the General Assembly passed the Equitable Restrooms Act, which identified all single-occupancy restrooms in public places as gender-neutral and designated them for use by no more than one person at a time, or for family or assisted use. But there is currently no law in Illinois authorizing multi-occupancy restrooms to be gender-neutral.
The text of the bill states its purpose is "to promote the privacy, safety, and gender inclusivity of all Illinois residents and visitors," and that the measure should be "liberally construed" to carry out its purpose.
It would require that such restrooms be clearly marked at their entrance with "inclusive signage" that does not indicate any specific gender. It would also require that each toilet stall be separated by dividers and a functioning lock mechanism on the door.
Urinals, if present, also would have to be separated by partitions.
The bill also provides that any multi-occupancy restroom could be converted to an all-gender restroom. But if another multi-occupancy restroom that is designated for a specific gender is located adjacent to or near the all-gender restroom, both would have to be designated as all-gender facilities.
Additionally, the bill would set out more specific standards for multi-occupant all-gender facilities that are part of a newly constructed building or one resulting from major renovations of a building.
The bill would require the Illinois Department of Public Health to adopt administrative rules to implement the new standards.
Rep. Charlie Meier, R-Okawville, said the bill's requirements could impose significant costs on the owners of large arenas where plumbing fixtures are already in place.
But Stuart said those facilities would be under no obligation to convert their existing restrooms to all-gender facilities. She said the bill would only allow them to do so if they choose.
The bill passed out of the House Human Services Committee on a party-line vote of 6-3. It now goes back to the full House where it could come up at any time for final vote.
phancock@capitolnewsillinois.com
New law allows Illinoisans to change sex on birth certificate without doctor