Nearly 43 percent of voters cast ballots prior to Election Day
By Cathy Janek For Chronicle Media —

November 29, 2016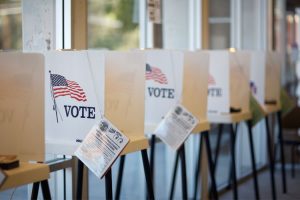 Early voters came out in droves this election season thanks to extended hours that included evenings and even weekends in some Illinois counties.
Final official totals were not available but throughout Illinois, an estimated 1.4 million persons — possibly as much as 25 percent of the electorate — chose to vote prior to Election Day.
Kane County far surpassed that percentage. A total of 72,537 voters — or 42.5 percent — voted early.
Many decided to wait until the final days leading up to the election to vote but lines were manageable up until the last day before the election, Kane County Clerk John A. Cunningham said.
"We used to say to vote early to avoid the lines, but now I have to say vote early," he joked last week.
In Illinois, early voting debuted in 2006.  It was created to permit voters with opportunity to cast a ballot prior to election day without having to provide a reason or an excuse as was previously required under absentee voting regulations.
Cunningham credits a number of factors with "awakening public awareness" about the early voting option which increased from the 46,113 Kane County residents who voted early in the 2012 presidential election.
In addition to an expanded outreach program, social media, the press and local businesses joined in to get the word out.
Many local businesses displayed vote early signs around the county.
Early voting for the 2016 general election began on Sept. 29 and 15 days prior to the election additional sites opened including a Kane County Vote Mobile unit.
In addition to 17 early voting locations, the Kane County Vote Mobile unit made stops at six Jewel-Osco stores, the Cambridge Lakes Community Center, and the North Aurora Police Department.
Calling it a "precinct on wheels," Cunningham said, Kane County is the only county in Illinois to have a mobile voting unit and is only one of two counties in Illinois that exclusively uses electronic voting, Cunningham said.
"The other is Peoria County," he said.
In Kendall County, 51,979 people voted in the recent general election. Nearly 30 percent — or 15,408 — voted prior to election day at one of three locations that included the County Clerk's office in Yorkville, Oswego Village Hall and Plano City Hall.
More than 23 percent of the 1.5 million voters in the recent election in Cook County cast their ballot early.
During this election, 358,314 Cook County voters came out early compared to the 2012 presidential election when 228,695 residents cast early ballots.  A total of 226,084 residents voted early in Cook County in 2008.
In DuPage County, a total of 435,142 votes were cast and 109,216 those voted early.
"This is the highest number of early voters we have ever had," said Joseph H. Sobecki, the assistant executive director of the DuPage County Election Commission. "Overall, we had a 70 percent voter turnout and 35 percent of the number was pre-election day voting which included voting by mail and early voting."
The DuPage County Election Commission offered 11 early voting locations throughout the county including municipal, township, and park district offices.
"Our board established hours for election sites to allow for voting after work," Sobecki said.
— Nearly 43 percent of voters cast ballots prior to Election Day —