How They Voted. Illinois Representatives' Votes in Congress
Chronicle Media —

September 10, 2016
UNITED STATES HOUSE OF REPRESENTATIVES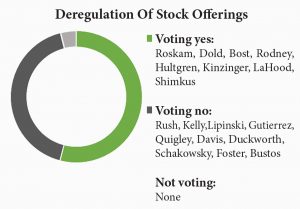 Deregulation Of Stock Offerings: Voting 236 for and 178 against, the House on Sept. 8 passed a GOP-sponsored bill (HR 2357) that would roll back Securities and Exchange Commission regulations to enable unproven smaller companies, both public and private, to market their securities with fewer investor protections. In part, the bill would authorize start-ups traded on public exchanges to use a simplified securities-registration form that is now available only to established companies that have met SEC transparency and financial-stability standards. The bill also loosens SEC registration requirements for private offerings aimed at raising up to $500,000 from a limited number of investors.
Jeb Hensarling, R-Texas, said the bill "will help unleash capital for our innovators…entrepreneurs…small businesses" while removing "regulation that has nothing to do with consumer protection…."
Carolyn Maloney, D-N.Y., said the bill would "inhibit effective regulatory oversight of our capital markets by the SEC, and…undermine not only the health and integrity of our markets, but the very capital formation process they claim to promote."
A yes vote was to send the bill to the Senate, where it was expected to fail.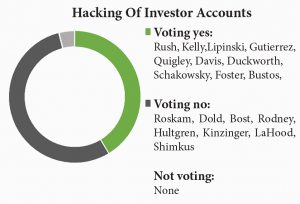 Hacking Of Investor Accounts: Voting 180 for and 233 against, the House on Sept. 8 refused to require companies raising capital under HR 2357 (above) to inform the Securities and Exchange Commission of cybersecurity measures they have put in place to prevent hacking into customer accounts.
Derek Kilmer, D-Wash., said his motion would ensure that "those who are putting up capital to fund these companies aren't subject to identity theft or other cyber crimes."
Jeb Hensarling, R-Texas, called the motion "just one more burden…when we are trying to ease burdens on capital formation."
A yes vote was to adopt the Democratic motion.
Department Of Justice Settlements: Voting 241 for and 174 against, the House on Sept. 7 passed a GOP-sponsored bill (HR 5063) governing Department of Justice settlements in civil litigation against corporate defendants. At present, the department often allocates a small share of settlements to outside organizations for broad remedial actions that benefit non-parties to the litigation. For example, in a recent $5.06 billion subprime-lending settlement, Goldman Sachs agreed to finance loan forgiveness and affordable housing for the benefit of classes of aggrieved individuals not party to the case. Under this bill, any fines not paid directly to injured parties must be allocated to the Treasury rather than third-party groups. Backers said this would prevent the administration from establishing "slush funds" to benefit of its political allies. Opponents said the bill would spur corporate abuses such as fraudulent mortgage-lending and workplace discrimination.
Tom Marino, R-Pa., said the bill "does not block the ability to provide restitution for victims. Instead, it ensures that money belonging to the Treasury and, therefore, to the American people, is not siphoned off for the pet projects of political appointees."
Jerrold Nadler, D-N.Y., said "homeowners and cities are still struggling with the aftermath of the foreclosure crisis, and the third-party donations included in legal settlements have proven vital in helping those directly affected and those secondarily harmed by the banks' actions."
A yes vote was to pass a bill backed by the U.S. Chamber of Commerce and opposed by consumer and community-housing groups.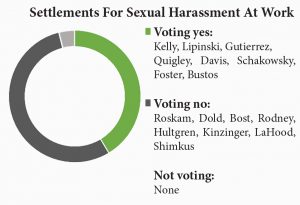 Settlements For Sexual Harassment At Work: Voting 178 for and 235 against, the House on Sept. 7 refused to exempt from HR 5063 (above) settlements paid by corporate defendants in cases based on job discrimination and sexual harassment and violence in the workplace. The amendment sought to allow settlements in such cases to be used to finance generalized remedial actions by third parties in addition to providing restitution to the specific parties to the case.
Sponsor Sheila Jackson Lee, D-Texas, said her amendment was needed because "we are not yet through with overcoming discrimination in many aspects of life, particularly in workplace discrimination."
Bob Goodlatte, R-Va., said "nothing in the bill (prevents) the Department of Justice from requiring a defendant to implement workplace training and monitoring programs."
A yes vote was to adopt the amendment.
UNITED STATES SENATE
Zika Virus, Planned Parenthood, Confederate Flag: By a vote of 52 for and 46 against, the Senate on Sept. 6 failed to reach 60 votes needed to end Democratic delay and advance a bill (HR 2577) that would fund fiscal 2016 budgets for veterans, military construction and housing programs. The bill includes $1.1 billion for combating the mosquito-borne Zika virus now spreading in the United States. Democrats based their filibuster on GOP-sponsored language in the bill that would ban Planned Parenthood funding of Zika-related reproductive care, allow unfettered display of the Confederate flag in national cemeteries and ease federal regulation of pesticides. When contracted by pregnant women, Zika can cause microcephaly, a birth defect in which the baby's head is smaller than expected.
John Cornyn, R-Texas, said "it is time for the federal government to step up. Why our Democratic colleagues would risk this horrific birth defect for political reasons is just lost on me. It makes no sense whatsoever."
Bill Nelson, D-Fla., said "people who are in the extreme spectrum of politics in the House…think they can force us to take" the Planned Parenthood and Confederate flag riders. "Well, it is not going to happen."
A yes vote was to advance the bill toward final passage.
— How They Voted. Illinois Representatives' Votes in Congress —