PRIME TIME WITH KIDS: Share a story waiting to be told
By Donna Erickson —

December 28, 2017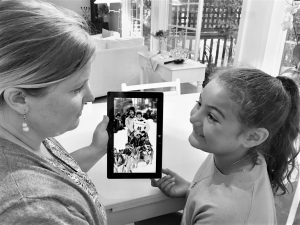 "Tell me another story about your sled dogs … didn't they get cold feet?" Ten-year-old Aubrie Odeyemi was full of questions as cousin Mary shared the adventures of her incredible accomplishment of finishing the almost 1,000 mile 2016 Iditarod sled dog race from Anchorage to Nome, Alaska.
Mary, 34, was good at telling her action-packed experiences of perseverance from the fear of losing the trail and getting lost, and taking care of the dogs in sub-zero temps every night, no matter how cold or tired she felt, to feeding the huskies meals and providing frozen beef and fish snacks throughout the day when on the move — "they're like a popsicle to a dog!" she adds. In every story, her love of her dogs, the thrill of the challenge, and the beauty of Alaska came through her words.
Stories magically hold our attention. What do you remember from a presentation? It's usually the story that was told. How do savvy political candidates try to get your vote? By telling a heartwarming story. And what keeps us gathered around the table long after the dishes have been cleared? A lively storyteller spinning a yarn.
This festive season, discover that the best dramas, mysteries and true adventures aren't necessarily in theaters or on the big screen. They're also in the hearts, minds and experience of people right under your roof, because everybody has a story.
Here are three story-swapping tips:
Photos make lively story starters.
Grab a family album and show a photo from decades ago to a grandparent to trigger a memory of an event. "Oh, that's at our annual family picnic when I was in charge of churning ice cream," Grandpa might say. "We made the special treat ourselves in those days. Once your Uncle Paul put a pickle in it when I wasn't looking. It tasted just awful."
Good listening encourages creative, confident storytelling.
Encourage your kids to listen to one another respectfully as stories are told.
The world is waiting for your stories.
There is no right or wrong way to tell a story, and you'll never run out of ideas. As someone's tale is being told, the hidden magic, images or meaning will get you thinking, and your own stories will surface, to everyone's delight.
***
Donna Erickson's award-winning series "Donna's Day" is airing on public television nationwide. To find more of her creative family recipes and activities, visit www.donnasday.com and link to the NEW Donna's Day Facebook fan page. Her latest book is "Donna Erickson's Fabulous Funstuff for Families."
© 2017 Donna Erickson; Distributed by King Features Syndicate
—PRIME TIME WITH KIDS: Share a story waiting to be told–