Understanding hospice care
Aurora Advocate Healthcare News —

February 23, 2023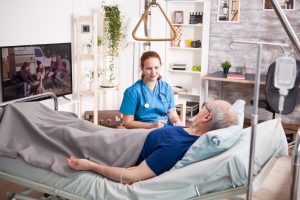 The recent news that former President Jimmy Carter has transitioned to hospice has generated interest in this level of care.
Hospice is specialized medical care for people who are nearing the end of their lives. The goal of hospice care is to provide comfort and support to those with serious illnesses and their families.
"Hospice care is an option when continued treatment is not likely to offer a cure or when the patient is not likely to survive more than six to 12 months," says Dr. Kimberley Battle-Miller, medical director of hospice and palliative care at Advocate Health Care. "Hospice care focuses on relieving symptoms and managing pain, rather than trying to cure the underlying condition. It helps ensure peace and comfort at the end of life."
Hospice care can be provided in a variety of settings, including a person's home, an assisted living facility, a skilled nursing facility, a freestanding hospice center or a hospital. Essentially, hospice care can be provided wherever the patient resides.
"This level of care is widely available and is paid for by Medicare, Medicaid and most insurance policies. It is also available to individuals without insurance," explains Dr. Kavita Sharma, medical director of hospice and palliative care at Aurora Health Care.
Hospice care teams typically include the patient's primary care doctor and physicians, nurses, social workers, chaplains, and other health care professionals who are experts in end-of-life care. They work together to provide physical, emotional and spiritual support to patient and their loved ones. The team also includes bereavement counselors and volunteers.
The team plays a big role in helping families understand what to expect during this time.
"Our team members make sure patients have items they need such as medicine, supplies and adaptive equipment," says Battle-Miller. "Care may also include assistance with day-to-day tasks such as bathing and dressing, training families and caregivers how to provide the best care for their loved one, as well as counselling, bereavement support, and other forms of assistance."
Hospice can also include complementary therapies such as massage, music and pet therapy
"We help patients face the end of their lives with peace and dignity," says Sharma. "It is a vitally important element of health care that people need and deserve."