Chicago's 49th annual parade a 'happy day of happy pride'
By Karie Angell Luc For Chronicle Media —

June 24, 2018
Overheard, said by an adult pedestrian on a sidewalk in Uptown at 10:08 a.m. on June 24: "It's going to be a good one."
Chicago's 49th Annual Pride Parade on Sunday, June 24, launched at Broadway and Montrose avenues, brought out more than 1 million spectators under blue skies with temperatures reporting at noon in the breezy lower 70s.
"I think the march makes the weather work, not the other way around," said Chicago Mayor Rahm Emanuel, who walked around the parade start area, talking to patrons and posing for cell phone selfies.
The parade featured 150 units and lasted nearly four hours.
"The Chicago Pride Parade is great because it brings every community together," said Richard Pfeiffer, parade coordinator.
"The LGBTQ communities are every race, creed, color, economic status and it's the one day we bring not just all of us together, but all of us all are allies," he continued. "Everyone has someone LGBTQ in their life, whether it's the person who works in the cubicle next to you, your best friend, a relative. It brings all of us together on this one day just to proclaim who we are."
Large rainbow flags were sold street side for about $20. People wore capes and dressed up. Others came in drag, including Valeria Mendez of Chicago who has another name, Christopher John.
"I moved to Chicago from Puerto Rico because of the hurricane," Mendez said. "It's an adventure, I'm enjoying it. It's a happy day, happy pride.".
Parade floats were as elaborate as one's taste. Some people marched with wagons holding kiddies. School buses were decorated maybe with a rainbow flag and a banner.
"It's one of the greatest days that we have here in this city," said Heba Kamel of Chicago.
For Nick Karpinski of Crystal Lake, the annual parade is a tradition.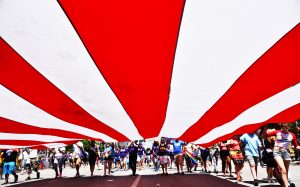 "The Pride Parade for me has always been a family event," Karpinski said. "It's been an event that I look forward to every year and it seems like each year it keeps getting bigger and better."
Karpinski came with a group of folks who were dressed festively.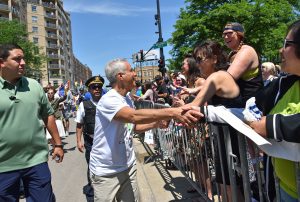 "We all have hearts that beat in our chest no matter where we come from in the world," said Amanda Garrett of Bartlett.
"So, it's nice to come together and let them all pound together," she said.
Get your free subscription of the Cook County e-edition
—- Chicago's 49th annual parade a 'happy day of happy pride' —-