Classic buses spotlighted for CTA's 70th anniversary
By Jack McCarthy Chronicle Media —

July 17, 2017
The No. 81  Lawrence Avenue bus parked at the downtown Daley Center Plaza looked ready to resume service at a moment's notice last week.
The 57-year-old vehicle and two others rehabilitated by the Chicago Transit Authority attracted a stream of visitors as the CTA showed off treasures from its vintage Heritage Fleet as part of the agency's 70th anniversary celebration on July 11.
Visitors of a certain age waxed nostalgic about riding similar buses in their youth. Millennials accustomed to air-conditioning, fare cards and digital train trackers took it all in via iPhones while wondering how their parents and grandparents coped with such spartan transit.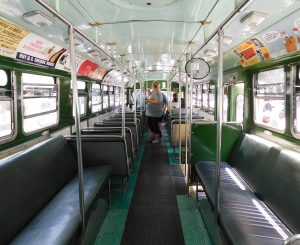 "This is like the one we rode on as kids," one visitor was overheard saying.
"I remember riding the bus to Riverview and transfers were a nickel," said another.
Adding to the realism were sunny and sticky conditions that quickly heated up the interiors.
"They're as hot as I remember," said one man.
The bus, numbered 8499, is something of a marvel. Manufactured by the Flxible Co. in 1960, it ran city routes from 1960 into the late 1970s and is the longest continuously operating bus in the Heritage fleet.
The diesel-fueled, 40-foot long bus could seat 50 people and was considered a transition bus from older models to more contemporary look and modern fleet that traversed city streets through the 1970s.
Read the current issue of the Cook County Chronicle
Free subscription to the digital edition of the Cook County Chronicle
— Classic buses spotlighted for CTA's 70th anniversary —