DePaul looks for winner at Wintrust arena
By Jack McCarthy Chronicle Media —

June 12, 2017
The inaugural tip-off at DePaul University's South Loop basketball home is still five months away, but the soon-to-open Wintrust Arena appears to have the makings of a winner.
A 10,387-seat arena with a surprisingly spacious feel takes up a full city block fronting Cermak Road and is steps away from the sprawling McCormick Place convention complex, a new hotel next door and an entertainment/dining district planned to surround it all.
A hard-hat tour of the building last week revealed a largely finished structure as workers push for a September completion.
DePaul officials, coaches and fans can't wait.
"Our building on campus is electric because everybody is so energized about the prospect of starting anew here," said Jean Lenti Ponsetto, DePaul's longtime athletic director.
A glowing video board is up and running above the court, some seating is already in place and much of the current work appears to be focused on drywall, railings and amenities still to come.
There's no basketball court yet. That will be among the last items installed.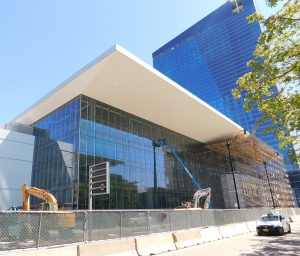 The estimated $173 million facility is a partnership between the university and the Metropolitan Pier and Exposition Authority, owners of McCormick Place.
In November, Rosemont-based Wintrust Financial entered into a 15-year naming rights agreement with the parties, but terms were not disclosed. Wintrust has approximately 150 locations in Illinois, Wisconsin and Indiana.
Besides serving as home base and a basketball recruiting tool, the arena is expected to raise the profile of the 119-year-old Chicago-based university and help rebuild interest among an estimated 160,000 DePaul alumni.
It will also serve as an appealing and flexible venue for McPier to promote meetings, trade shows and entertainment events.
"It gives us another venue to expand. With the addition of the Marriott Marquis (next door) with 1,100 rooms and the existing Hyatt, we're creating a nice strong campus  down here," said David Kennedy, assistant general manager of entertainment for SMG/McCormick Place. "There's already some restaurants and retail that are being added within walking distance of the arena.
"The entire South Loop is buzzing."
Designed by the internationally renowned firm Pelli Clarke Pelli, Wintrust Arena will feature 22 suites, 479 club seats, two VIP club lounges and the Demon Deck, a student section with close-up view of the on-court action.
On the outside, the building's design features a distinctive undulating roof plus glass facades that bring in natural light during daylight hours.
Like Allstate Arena, Wintrust Arena will offer easy accessibility by car and ample parking.
But public transportation options — limited in Rosemont — will be a viable option with CTA bus service to the door and CTA Green Line trains (two blocks away). The Cermak Road Red Line stop (four blocks west) is 10 stops from the Lincoln Park campus and four from the DePaul's downtown center.
DePaul's men's basketball team will be the primary attraction, at least to start.
The nationally prominent Blue Demon women will also play six games at Wintrust.
The Blue Demon men, who once played at the cramped on-campus Alumni Hall, will be back in the city after a 36-year run in suburban Rosemont that began one year after DePaul's legendary run to the 1978-79 NCAA Final Four.
The 17,500-seat Rosemont Horizon (later renamed Allstate Arena) was initially a hit as DePaul drew big crowds, national attention and rankings, plus postseason appearances in the early years.
The Blue Demons were a hit right from the outset. Between 1980-984, the late coach Ray Meyer guided DePaul to a 68-3 home record with names like Mark Aguirre and Terry Cummings leading the way.
Joey Meyer, Ray's son, took over in 1984 and the winning traditions largely continued during a 13-year career that featured 11 straight winning seasons and six 20-plus win campaigns.
But Joey Meyer was out after a 3-23 campaign in 1996-97 and mostly darker days followed. A once-dominant program slipped into mediocrity and an afterthought as fans stayed away and media attention waned.
Attendance average was around 1,800 last season, according to a Crain's Chicago Business report.
DePaul hasn't been to the NCAA tournament since 2003-04 during head coach Dave Leitao's first run at the school. DePaul made two National Invitation Tournament appearances after that but there's been no postseason play since 2007-08.
There have been no winning seasons either. DePaul has gone 100-213 (a .319 winning percentage) in that span, including a 9-23 finish in 2016-17.
Leitao, who returned for his second DePaul run in 2015 and starts his third season in November, is charged with rebuilding the program. Wintrust Arena and its prominent city location may be just the ticket as a powerful recruiting tool.
"We're in here for recruiting purposes a lot," said Leitao. "There's still a phase to go from a recruiting standpoint, being actually in the building and having recruits see the newness of what it is and playing in there."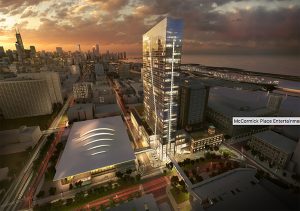 So far, reactions from potential recruits have been encouraging.
"They all want to dribble the basketball and put the ball in the hoop," he said. "I'm more impressed with, when they walk in the first time, what it does to their faces."
Season ticket sale are already underway and Lenti Ponsetto reports interest is encouraging so far.
"We've started to seat our first tier of season ticket holders," she said. "We filled in a good majority of the lower bowl, especially the sideline seats. … Our average ticket purchase last year at Allstate Arena was three per person. After the first day where we sat people (at Wintrust) it was like 5.9. So you can tell people are excited."
— DePaul looks for winner at Wintrust arena —